That's the number of bills and payments I need to track each month.
To keep my head from exploding, I use a budget calendar to handle them like clockwork.
In this post, you will find:
A step-by-step guide to using a budget calendar
Free budget calendar templates, worksheets, printables
A digital app so you can take your budget calendar on the go
TAKE ACTION:
Download our free budget calendar for Google Calendar or any of the budget calendars in our round up
Input your monthly expenses
Stay on top of bills and paying them on time
This post may contain affiliate links. See disclosure for more details.
SPREAD THE WEALTH, SHARE THIS POST!
What is a budget calendar
A budget calendar tracks when large amounts of money come into and go out from your bank account each month. It's like a roadmap that helps you stay on top of your payments throughout the month to make sure that you don't miss a bill (and get charged extra fees or interest for it).
It's not meant to detail every single expense you incur, but more to give you an overall sense of how your finances are affected by larger chunks of money.
Having a clear sense of what payments are coming up helps you better prepare to have funds available by the time your major bills are due, rather than scrambling to pull together money at the last minute (which would most likely result in a big, fat money fail).
While surprises are usually fan, not so much when it comes to your bills and expenses.
How to use a budget calendar
If you plan to use your own budget calendar, there are three main budget categories of items you should log onto it.
Income
Regular income such as paychecks
Irregular income, such as from a side hustle, if you know the date you are going to be paid out
Recurring bills
This includes payments with set dates each month, such as for:
Mortgage/rent
Utilities
Water
Electricity
Phone
Cable
Car payment
Credit cards
Student loans
Monthly bills
There are other recurring bills that come every few months that you can add to your calendar as well, like:
Insurance payments
Annual or monthly subscriptions
Tax payments
Donations
TIP:
Prefer to work your budgets by month instead of year? To make sure you don't forget about these once-in-a-while bills, make a list of them on a post-it so you can transfer the sticky over easily each month. 
If you have a general routine for common expenses, such as buying gas or groceries once every week, you can add them to your calendar as well. List these with the estimated spend, since you won't know the exact amount.
DO THIS:
Seriously, DO THIS: Include savings as a part of your recurring bills. Whether to build up an emergency fund or invest in your IRA, mark this on the earlier part of your calendar so you have time to actually do it.
Non-recurring expenses
You aren't limited to only recording your recurring expenses. If you have something coming up that you know you'll need to spend some money on, you could choose to put it on your calendar also. Examples include:
Children-related costs, like snacks for the next soccer game
Gifts
Clothing
Entertainment
Special occasions
Free budget calendars
Personal finance is all about picking what works best for you. Just as different people prefer different budgeting styles, there are all kinds of budget calendars too, some that may work better for you than others.
If you're a pen and paper kind of person, use a traditional calendar printable. Or, maybe a digital calendar would appeal to you more. If you're more of a techy, a budgeting app with a built-in calendar would be right up your alley.
No matter how you want to manage your money, the budget calendar round up below will have an option for you.
Budget calendar for Google calendar
If you'd like to track your bills using Google Calendar, grab our free template by clicking on the button below to automatically download to your device. You can import to your Google account by following the instructions right under the download button. All you have to do is change the dates and amounts from our sample entries to whatever your payment dates and amounts are.
How to import our download to your Google calendar:
Download the .zip folder and extract the .ical file
Open Google Calendar
At the top right, click the gear icon, then Settings
At the left, click Import & Export
Click Select File from Your Computer and select the ical file
Choose which calendar to add the imported events to (you can create a new calendar just to keep these events, or add them to your existing calendar)
Click Import
Budget calendar app
If you prefer to manage your money with modern technology, getting a premium membership with Undebt.it, our favorite debt management tool, is the way to go.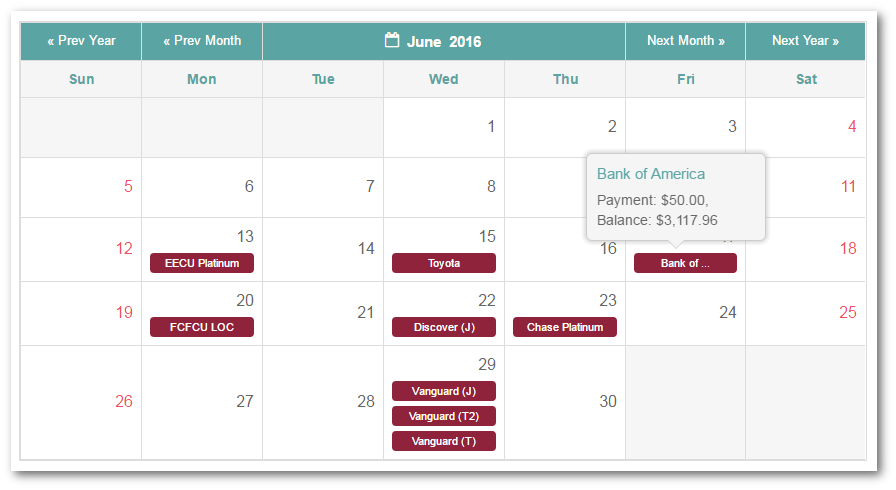 The upgraded membership provides all of these tools to help you stay on it with your money:
Debt payoff calculator, table, chart
Export and sort data in Excel
Bill management
Text message bill reminders
Debt payoff snapshot stories
Calendar view of payments due
Sign up for a 30-day free trial to see if it's right for you. It's 100% risk-free, since no payment info is required and your account will simply revert back to the free version once the trial is over.
WANT A FREE BUDGETING WORKSHEET?
Simple walkthrough - just one sheet!
Divide income into 3 categories: needs, wants, and savings
Bonus expense tracker 
Form fillable!
Conclusion
A budget calendar is a simple tool that can help you get your finances organized in no time (get it?). Use any of these free budget printables, budgeting Excel spreadsheets, and digital budgeting apps to make tracking your bills a breeze.
TAKE ACTION:
Download our free budget calendar for Google Calendar or any of the budget calendars in our round up
Input your monthly expenses
Stay on top of bills and paying them on time
SPREAD THE WEALTH, SHARE THIS POST!
AUTHOR BIO
Sylvia, aka Mama Chang, is a personal finance blogger out to prove the possibility of navigating high-cost living on a low-cost budget. Paid off college and condo in her 20's on under $55k salary. She wants to teach others how optimize money to maximize quality of life. Dual income with kids, based in Hawaii.
Hangs out on Keeping Up with the Changs: Pinterest