That's how much my belly grew by the time I gave birth to my son.
Too bad I can't say the same for my wallet.
Recognizing that my massive belly was only a temporary state and that I would rather save the money to go towards the baby budget, I didn't want to spend too much on clothes for this short period.
Fortunately for me, I was able to keep my maternity wear expenses slim.
To help you do the same, here's how to get through pregnancy with cute, inexpensive maternity clothes on a budget.
In this post, you will learn:
The best wardrobe tips for each stage of pregnancy
Smart hacks to stretch your current wardrobe
How to expand your wardrobe on a dime
This post may contain affiliate links. See disclosure for more details.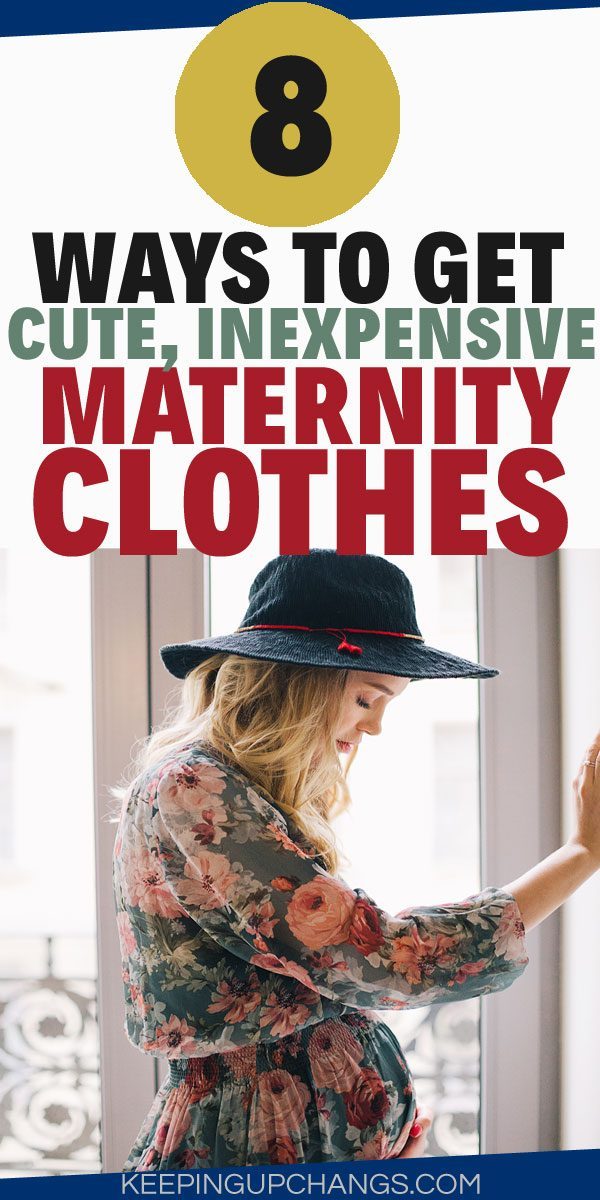 SPREAD THE WEALTH, SHARE THIS POST!
OVERWHELMED WITH FIGURING OUT HOW TO PLAN FINANCIALLY FOR BABY?
Get our Baby Budget Kit, with step-by-step guidance on how to budget for a new baby:
Learn where you stand to save the most
Detailed breakdown of hospital birth costs & first-year expenses to expect
How to get essential baby items for cheap or free
Action plan checklists, worksheets, and trackers to help you stay on budget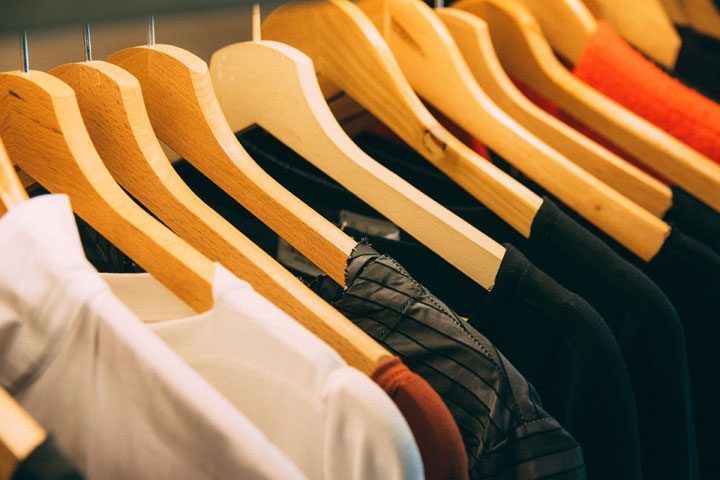 Strategy for a maternity wardrobe on a budget
Before you buy your very first piece of maternity clothing, keep these big picture tips in mind so that you make the most of every dollar:
Don't limit your maternity clothes to your pregnancy days
Just like one of the key tips from our post on how to get all your baby essentials on a budget, don't buy items that will only work for a short while.
Choose clothing that works beyond your maternity days, so that you're not limiting yourself to just a few months of use with these pieces.
Think basics
Sticking to a few basics of mixable pieces will give your wardrobe more variety. Additionally, if you do plan to save your clothing for future pregnancies, your clothes won't go out of style.
Getting a few tanks, jeans, a pencil skirt, and leggings is a good start.
Get creative with accessories
If you're afraid of your wardrobe being bland, use accessories to make a fashion statement. The upside to this is that you can continue to wear these pieces even after the pregnancy is done.
Tips to save money on maternity clothes
First Trimester (Months 0-3)
In these early stages, your belly might show a little, if at all. Since your belly is still relatively small, here are some tricks to get by without buying any maternity clothes just yet.
Tip 1. Utilize what you already have
Scour your closet for flowy tops, stretchy bottoms, and dresses that will accommodate your growing belly.
Tip 2. Work around your tummy with these strategic pieces
If your tighter-fitting shirts don't exactly make it all the way down your belly, or your pants can't be buttoned around it, getting a tummy sleeve will give your stomach the coverage it needs without you having to buy new tops or bottoms just yet.
Use coupon code CHANGREADERDISCOUNT to get $40 off, which gets you one FREE full body belly button band or two FREE belly button bands that cover just the belly region.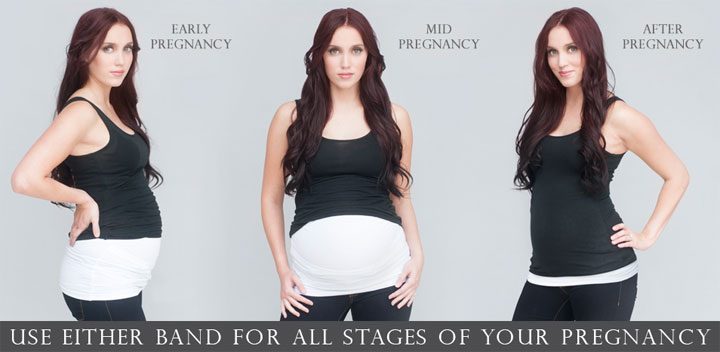 As for your pants, looping an old rubberband or hairtie around the button and through the buttonhole lets you use your pants for just a while longer, as demonstrated below by Green Baby Deals.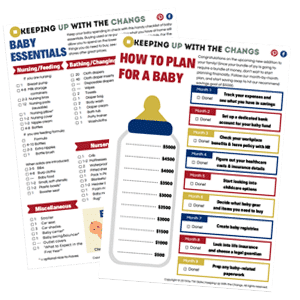 WANT A FREE BABY ESSENTIALS CHECKLIST & BABY SAVINGS PLAN?
Get this two-part printable:
Essentials checklist:

Baby must-have items
Highly recommended and optional products
Estimated budget per category

Savings plan:

One major financial task per month
Fun savings tracker
Second Trimester (Months 4-6)
Most people will already start showing by this time. Some of the tips above may still work during this period, but here are a few more to utilize.
Tip 3. Borrow clothes
Your partner's closet is fair game for your wardrobe.
And since you are past the first trimester when it may be more appropriate to share news that you are expecting, don't be afraid to let your friends and family know that you're looking for maternity wear. They might have a some spare maternity pieces lying around that you could put to good use.
Tip 4. Look into used maternity clothes
Going second-hand for maternity clothes is a smart move, since you won't need this stuff for long. Try these places to get maternity clothes on a budget:
Apps like Decluttr
Consignment stores or pop-ups
Goodwill or Salvation Army
You might even find some folks giving away their old maternity wear on the first two platforms.
TIP:
Rhea Lana is a popular consignment store pop-up for maternity, babies, and kids items in cities across the U.S.
Find out when they'll be in your area, then make sure to swing by on the final day when they have the largest discounts for maternity items and baby necessities.
You can also volunteer at the event to earn additional discount offers.
Tip 5. If you do decide to buy new, here is where to shop
The middle of the second semester is the ideal period to shop for new maternity wear if you do choose to buy brand new. By this time, your belly would have grown enough to warrant the need for maternity clothes, yet you still have a few months left to squeeze the most use of your purchases.
Here are the places I would choose to shop at when keeping quality, selection, and budget in mind.
Target: Reasonable prices, frequent deals, and coupon stacking make this a prime choice for maternity wear.
H&M: Their clothes are usually at a good price point already. And believe it or not, they do have maternity wear, so it'll be stylish and affordable.
Old Navy: This is my go-to store for basics. Having neutral colored bottoms makes it pretty easy to mix and match.
Walmart: Clothes here are pretty budget-friendly. Though the quality is not as high as you'd find at other stores, I think it's okay since you're only expecting to wear maternity clothes for a short while.
Discount department stores: Places like Ross and TJ Maxx can be great places to find a bargain. I tend to find the best deals on dresses when I shop at these types of stores.
Outlet stores: You can snag some good deals at Motherhood Maternity, GAP and other clothing or department store outlets.
More of an online shopper? Try these options:
Amazon.com: The largest online retailer has been upping their game with Amazon Wardrobe, where you can try before you buy the clothes.
TIP:
Planning to nurse? Find clothes that will work for both your current pregnant state as well as after baby is out and you're trying to nurse.
Check out pieces from Undercover Mama, which are actually cheaper here than their main website.
OVERWHELMED WITH FIGURING OUT HOW TO PLAN FINANCIALLY FOR BABY?
Get our Baby Budget Kit, with step-by-step guidance on how to budget for a new baby:
Learn where you stand to save the most
Detailed breakdown of hospital birth costs & first-year expenses to expect
How to get essential baby items for cheap or free
Action plan checklists, worksheets, and trackers to help you stay on budget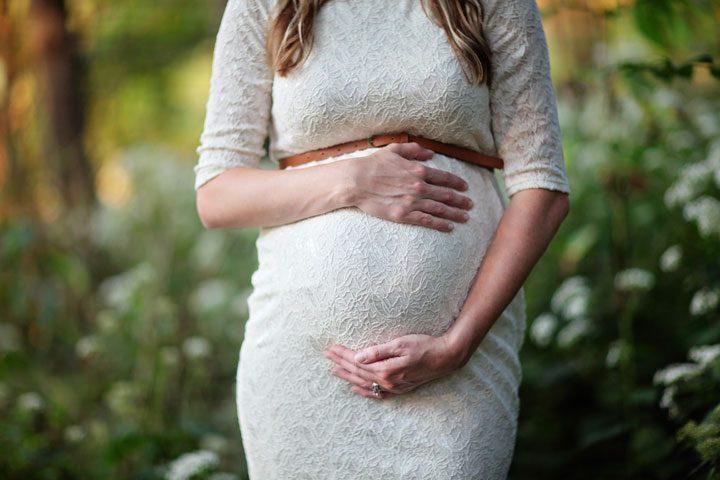 Third Trimester (Months 7-9)
This is the final stretch for your baby bump (get it?). If you're able to hold out using the tips above, fantastic. Otherwise, keep reading for more tips to get you through these last three months:
Tip 6. Rent maternity clothes
Maternity subscription boxes allow you to expand your wardrobe with quality clothing and brand names at a lower price point, since you are not purchasing these items outright (though you may be able to if you're really loving certain pieces).
Some example subscription boxes include: Mine for Nine, Stitch Fix Maternity, and Le Tote Maternity.
If you're attending a special event, like a wedding, and need fancier wear like an evening gown, this can be the perfect solution considering it'll likely be a one-time thing.
Tip 7. Make your own clothes
For me, by the time I reached the final months, my body was too squished for me to care about anything other than comfort.
I was fortunate that my mother-in-law is handy with a sewing machine, so she actually sewed a few pajama pants for me to wear around the house.
Post Partum (After Birth)
Your belly won't shrink to pre-pregnancy size right away, so make sure you have some clothes that fit you during the second trimester stage with you at the hospital.
For some people, their belly never gets back to what it was before pregnancy. Like I can attest to, as it's been 2 years and counting since I had my kid, yet my relaxed tummy size has decided to stick around. So, it's good to keep your looser-fitting clothes around.
When you do find yourself slimming back from your larger-fitting clothes, consider this next tip.
Tip 8. Give your maternity clothes new life
You can do this in a number of ways:
Pass them on to another expecting mother
Donate to charity
Save for the next kid!
Conclusion
Yes, it is totally possible to get cute, inexpensive maternity clothes on a budget. With a little creativity, you can stretch those dollars when expanding your wardrobe during pregnancy.
SPREAD THE WEALTH, SHARE THIS POST!
AUTHOR BIO
Sylvia, aka Mama Chang, is a personal finance blogger out to prove the possibility of navigating high-cost living on a low-cost budget. Paid off college and condo in her 20's on under $55k salary. She wants to teach others how optimize money to maximize quality of life. Dual income with kids, based in Hawaii.
Hangs out on Keeping Up with the Changs: Pinterest