Black is always in style.
Particularly when it comes to your finances, where it's definitely preferable to being in the red.
To help you visualize your progress of getting out of debt, we've rounded up the best debt trackers we could find on the internet.
And the best part is, these free debt printables won't cost you a penny.
In this post, you will find:
Pretty debt printables to keep you focused on reducing debt
Practical debt trackers that'll keep your eyes on the prize of paying off debt
Simple debt worksheets to make tracking your debt repayment progress a breeze
TAKE ACTION:
Grab a free debt worksheet printable
Use it to create a visual plan to pay off your debt
Start tracking your progress!
This post may contain affiliate links. See disclosure for more details.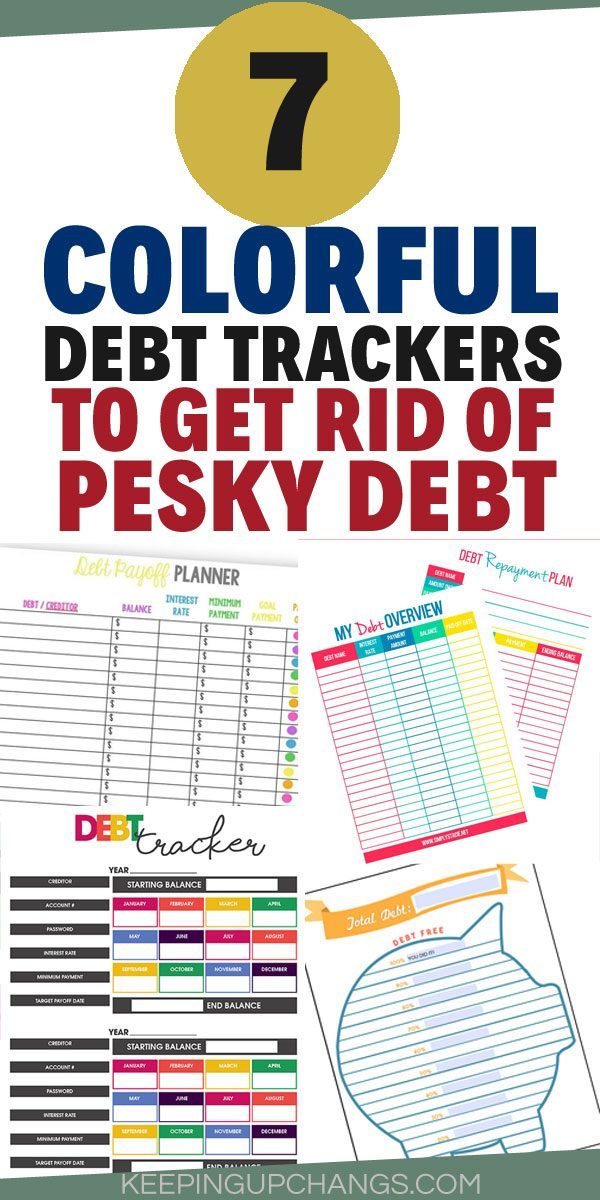 SPREAD THE WEALTH, SHARE THIS POST!
Debt snowball worksheet printable
The debt snowball strategy of paying off your debt is so easy to use that you don't even need a debt snowball Excel spreadsheet. Just use our simple, free one-pager below that you can write or type in.
As you knock out your smallest debts first, watch your extra payments towards your larger debts balloon until your balances are totally buried and you're final debt-free! Just click the button below and enter your details to sign up for the freebie.
Themed debt payoff chart
These unique debt trackers are themed for your car loans, student loans, or credit cards. A fun way to visualize your debt payoff that's a bit more creative than a debt payoff thermometer. (via The Penny Hoarder)
Debt tracker spreadsheet
Here's a free debt reduction spreadsheet for Google Sheets that's simple but sweet. Plug in your loan balance, then let Google Sheets automatically calculate your milestones in 5% increments.
You'll also find a piggy bank printable that you can download and color in to see your progress, for a visual representation of your debt reduction. (via One Beautiful Home Blog)
Debt payoff printable
The pops of color in this debt payoff worksheet might give you the pop of motivation you're looking for to stay on track with paying money towards your debt. (via Moritz Fine Designs)
Free printable – Debt Free Charts
What's better one free debt payoff printable? How about 39 of them? Grab a whole array of free pdfs from Debt Free Charts, a site that's aiming to give away 300,000 of their debt tracker printables. (via Debt Free Charts)
Debt worksheet
This debt worksheet printable is perfect for Type-As. You can color code your progress on this free debt worksheet pdf, which has lots of fields to put all the deets you might want handy. (via A Mom's Take)
Debt management worksheets
This two-page debt summary worksheet set includes a debt overview chart and a repayment plan printable. (via Simply Stacie)
Conclusion
Who said paying off debt had to be bland and boring? With these debt trackers that range from simple debt snowball worksheets to colorful debt printables, it'll be anything but.
TAKE ACTION:
Grab a free debt worksheet printable
Use it to create a visual plan to pay off your debt
Start tracking your progress!
SPREAD THE WEALTH, SHARE THIS POST!
AUTHOR BIO
Sylvia, aka Mama Chang, is a personal finance blogger out to prove the possibility of navigating high-cost living on a low-cost budget. Paid off college and condo in her 20's on under $55k salary. She wants to teach others how optimize money to maximize quality of life. Dual income with kids, based in Hawaii.
Hangs out on Keeping Up with the Changs: Pinterest