There's a rule in our house: no phones out while eating at the dinner table.
But when we're at the grocery store, we always make sure that our phones are pulled out and ready for action. That's because we love how easy it is to use grocery shopping apps to save money at our fingertips.
From cash back to price comparison apps (and even one that will give you bonuses without you having to buy a single thing!), we're sharing the best free grocery shopping apps to pare down your spending.
TAKE ACTION:
See what other apps can help you save
Get in the habit to save money on each trip to the grocery store
This post may contain affiliate links. See disclosure for more details.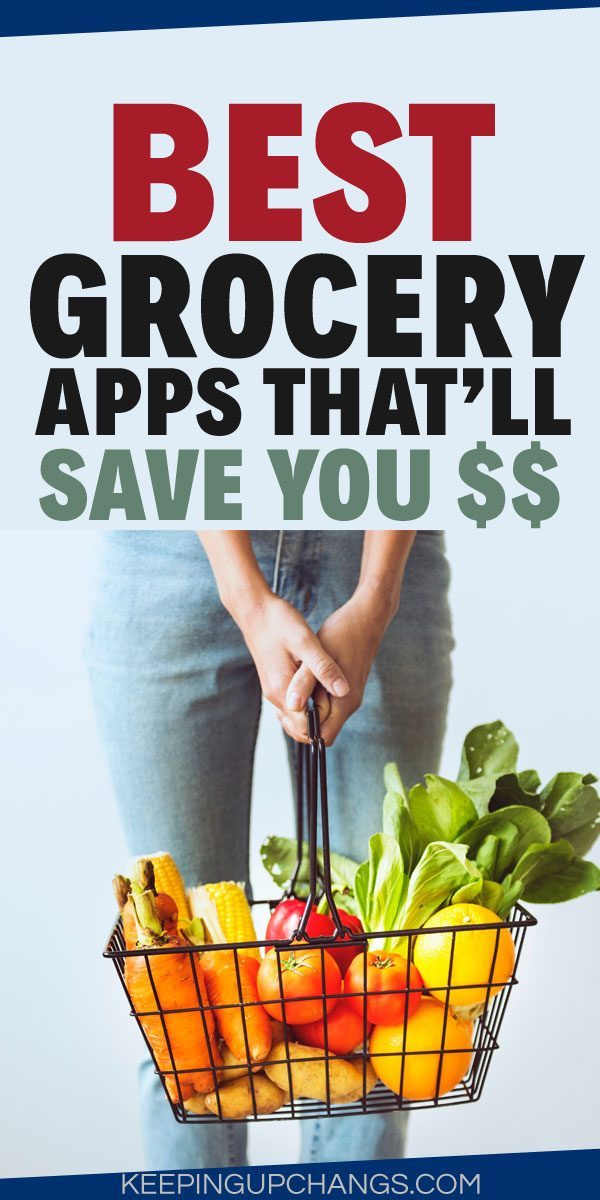 SPREAD THE WEALTH, SHARE THIS POST!
In this post, you will learn:
The best apps to save money and get rewarded for your grocery shopping
How to redeem your savings within the apps
How to claim welcome bonuses, which is extra cash just for getting started with these apps
What is the best grocery coupon app?
Our hands-down favorite is the Ibotta app. Here's why:
Quantity of rebates offered
Availability of rebates that are not brand- or store-specific (allowing you to earn no matter what!)
Variety of products, brands, stores with rebate offers
Number of opportunities to redeem for rebates
Frequency that new rebates pop up in the app
Ability to connect with friends and family to earn even more rewards
Claim your $10 welcome bonus when you get started with Ibotta.
Cashback and rebates grocery shopping apps
Ibotta
Since we mentioned above that this is our favorite, let's go into why.
This app gives you cash back rebates for all kinds of products. Some rebates are brand-specific, while others are simply product-specific (like $1 off any brand of milk). They even offer rebates for buying anything at any store!
Simply select which rebates you want to redeem, scan your receipt, and the cash gets deposited right into your account.
What's fun about this app is that you can get friends and family in on the savings by having them join your team, so you can work together to unlock other bonuses.
Checkout 51
Another cash back app that is similar to Ibotta is this one. It does have limited rebates, but if you are quick to claim them, then you can save a pretty penny.
Shopkick
This interactive app allows you to earn free gift cards even if you don't buy a single thing!
In addition to getting rewards for making purchases, you can also earn bonuses just for entering stores and scanning specific products. The app rewards you in points, which you can redeem for gift cards.
The bonuses are admittedly on the small side so it's not worth going out of your way to a store just to snag some points. But, it is a fun way to earn free gift cards if you have some extra time on your next grocery store visit.
Our favorite strategy is to tag-team it, with one person watching Baby Chang and waiting in the checkout line while the other makes the "cashback" rounds to scan the requested products. We usually do this at Target, which is where we regularly shop anyway so it's not an extra trip.
Savingstar
A nice perk of using this rebate and coupon app is that most stores let you sync the app with their loyalty program. That way, you don't even have to submit a picture of your receipt to get your rebate.
Instead, show your loyalty card at checkout and the app will automatically know that you purchased the rebate items you selected.
For the stores that don't have the linked loyalty card option, you can still get your rebates with the touch of a button by snapping a picture of your receipt.
Grocery shopping price comparison apps
Rebates apps are a fun way to get more bank for your buck, but getting the best price on your groceries is also an excellent way to save money on groceries. Of course, there's no reason you can't do both!
Here are some apps that make it easier to compare prices so you can fill up your pantry without emptying your wallet.
Instacart
With this app, you can compare prices on groceries, have groceries delivered to your doorstep, and even earn money from the app.
On the price comparison side, you have access to coupons for hundreds of stores and can check product photos to make sure that you're selecting the right products to order.
For the delivery service, this could be a huge time and sanity saver, especially if you have your hands full or are outnumbered with the number of little ones you have in tow. Getting groceries without ever having to set foot in a supermarket is really convenient.
Lastly, you can earn money from this app by becoming an in-store shopper. If you're at the grocery store anyway, consider buying and bagging someone else's groceries for a little extra side income.
Walmart Grocery Shopping
Within the Walmart savings catcher app, your Walmart purchases are checked against other competitors' advertised prices. If it finds a better deal somewhere else, you get a Walmart e-gift card for the difference.
It's worth noting that the app only compares against advertised prices for identical items. So, if you aren't loyal to a specific brand, you might miss out on a better deal that was for a different brand name.
How do you get rebates from grocery coupon apps?
To claim a rebate in your grocery shopping app:
Step 1. Log into your account and see which rebates are available. Some apps may require you to select the specific rebates you want to redeem beforehand.
Step 2. Scan or take a photo of your receipt. Some apps allow you to link your loyalty card and skip this step.
Step 3. Wait for your purchase to be verified by the app.
Step 4. Check to see that the rebate has been deposited into your account.
Step 5. Repeat with other rebates.
How do I get my money back from grocery shopping apps?
To withdraw the cash from your rebates:
Step 1. Check if there is a minimum threshold that you must reach before you are allowed to withdraw the money.
Step 2. Connect your grocery shopping app to a Paypal or bank account.
Step 3. Redeem rebates, offers, and tasks until you reach the threshold.
Step 4. Request to transfer the money to your bank account.
Step 5. Wait until the money transfer has been complete.
Step 6. Repeat to earn more money.
Conclusion
Use food price comparison apps and grocery shopping apps to save money and cut down your food bill in more ways than one. Whether through rebates, scanning products, or comparing sales across multiple grocers,there are many bite-size ways to save on your grocery bill.
TAKE ACTION:
See what other apps can help you save
Get in the habit to save money on each trip to the grocery store
SPREAD THE WEALTH, SHARE THIS POST!
AUTHOR BIO
STACY, aka AUNTY CHANG, is a personal finance blogger set on a mission to show people that there's more to money than just the numbers. With two rental properties and a six-figure 401k by her 30's, she's on track to retire early without sacrificing work-life balance to get there. She wants to teach others how to identify their goals and use money to make them happen. Dual income, no kids, based in Hawaii.