$700.
That's what parents will spend on average each year their baby is in diapers.
While we used a combo of cloth and disposable diapers, he was in disposables about 25% of his first year.
The grand total we spent in that time?
$62.
That's less than 10% of what the average person spent, even though my son spent nearly 25% of his first year using disposable diapers.
How did I manage to spend so little in my budget for my newborn?
By scouting out deals and sales to score cheap diapers.
I wanted to share all of my research and spending habits to help you get the best prices on diapers too.
In this post, you will see:
A comparison of various diaper brands
The easiest methods to get a good deal on disposable diapers online & in store
Other tips to save money on diapers
This post may contain affiliate links. See disclosure for more details.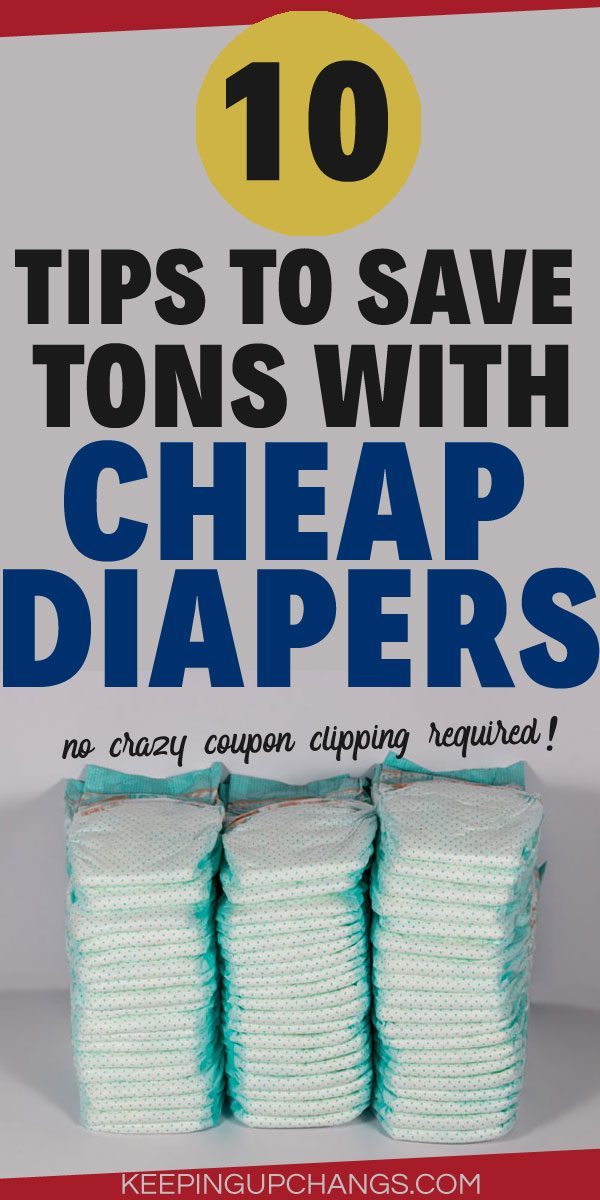 SPREAD THE WEALTH, SHARE THIS POST!
OVERWHELMED WITH FIGURING OUT HOW TO PLAN FINANCIALLY FOR BABY?
Get our Baby Budget Kit, with step-by-step guidance on how to budget for a new baby:
Learn where you stand to save the most
Detailed breakdown of hospital birth costs & first-year expenses to expect
How to get essential baby items for cheap or free
Action plan checklists, worksheets, and trackers to help you stay on budget
How much do you pay for diapers
You can expect to pay anywhere from $0.15 to $0.52 per disposable diaper. That depends on the brand, size, and whether you know how to look for good deals.
Most babies go through an average of 2,500 diapers a year, so you can expect to pay anywhere between $375 or $1300, which is a pretty huge range.
By the end of this post, you'll have the knowledge you need to keep your spending towards the smaller end.
Comparison of diaper brands
Here's a comparison of various diaper brands, including notes gathered by personal experiences of other mothers.
CAUTION:
Every baby is different so you should try the various products to see which works best for YOUR baby.
Brand
Features
NAME
BRANDS
Huggies

Like the belly button cut-out for the newborn stage
Little Snugglers and Little Movers generally well-liked for functionality with moving babies
Avoid Snug & Dry, looks girly on boys and tends to leak

Luvs

Super absorbent
Good for overnight use
Better fit to prevent blowouts, but also requires sizing up faster
Scented

Pampers

Swaddlers Sensitive didn't seem to cause any problems
Thicker diaper overall
Higher quality, but also higher price

STORE
BRANDS
Target – Up & Up
I personally use this brand. No problems with the quality, and LOVE the price.

The only "issue" I ever had was finding out that one pack of diapers I bought had half of one size and half of another. Just took it in to Target and got a refund, no questions asked. But I got to keep what I had bought, so I basically scored free diapers.

Walmart – Parent's Choice
This used to get a lot of flack for leakage, but the diaper has been redesigned and seems to be much better, while still having an affordable price point.
Costco – Kirkland Signature
Quality is comparable to Huggies. Parents who use them seem to love the diapers (and, of course, the price point too).
Sam's Club – Member's Mark
Quality also similar to Huggies or Kirkland diapers. Here too, parents seem to have great things to say for both the quality and the price.
What is the cheapest brand of diapers
Generally, you'll find better prices on store brands. They're not top quality, but work perfectly fine. If you're a member of Costco or Sam's Club, you can buy their brands of diapers in bulk.
If you don't have access to those stores or just need a smaller pack of diapers, Target's Up and Up brand is a solid choice.
Luckily, using the techniques below, you can save money no matter where you want to buy your diapers.
Best way to get cheap diapers online
Yup, you probably knew it was Amazon. They dominate the online market for good reason, but here are two things you absolutely need to know when it comes to buying diapers from them.
Subscribe and Save
A convenient subscription service that unlocks the 20% discount, letting you "set it and forget it" with your diaper supply.
With these two features, you can get a great price on diapers without having to spend all the time and hassle comparing prices.
Steps to get cheap diapers online
Sign up for Amazon Family (if you don't already have Prime, sign up to try it for free)
Select your diaper of choice
Set up a subscription to get 20% off and you're done!
Note: you must be a Prime member to unlock the huge diaper discount. If you are not already a member, try Prime for free for 30 days.
Best way to get cheap diapers in store
If you've read enough of this blog, you know that my favorite brick-and-mortar is Target. They're all about promos and incentives too, and offer great ways to save just like Amazon does.
Steps to get cheap diapers in store
In terms of which one has a better value, I'm partial to using Target. If I happen to have extra diapers, I can easily go in to return any unopened boxes since there's a physical storefront to go to.
Plus, you don't need to have any special membership to take advantage of Target's subscription discount, unlike Amazon's subscribe and save service, which requires Prime membership.
Tips to save money on diapers
As easy as it is to set up a subscription with either Amazon or Target, there are other ways to save money on diapers too that also don't require much commitment or effort. Here are some of my favorite easier tips for getting cheaper diapers.
Tip 1. Sign up for baby registries.
You can save on diapers with
baby registries
in two ways. First, you usually a welcome kit filled with dozens of coupons on baby products, diapers included. It's a great way to try out different brands to see which one suits your baby best before buying in bulk.
Second, you can get a registry completion discount, usually between 10-15%, for buying whatever is left on your list when you're within a certain time frame from your baby's due date. Make sure to include some diapers on your registry, then buy up them using the discount!
Tip 2. Check online marketplaces.
When babies outgrow their diapers, parents often look to offload the unused diapers for cheap on Craigslist or Facebook Marketplace.
Alternatively, check with family and friends who might have old diapers to pass off.
Tip 3. Try out store brands.
Some parents are adamant about using top-name brands, but it is worth at least giving store brands a try. You might discover what many parents already have: that they're similar in quality, but substantially cheaper.
For example, if you and your baby are fans of Huggies diapers, consider Costco's or Sam's Club's brands, which are comparable.
Tip 4. Check unit price.
Always check by the price per diaper so you can determine which box is the best deal. The number of diapers in a box varies from brand to brand, so don't be fooled by the prices per box.
Tip 5. Buy in bulk.
I recommend exercising this tip when baby starts a new size up. That way you don't have to worry about having too many extra diapers that'll be too small once baby outgrows them.
Generally speaking, buying more means that you save on the cost per diaper. But again, always check the unit price because that is not a given.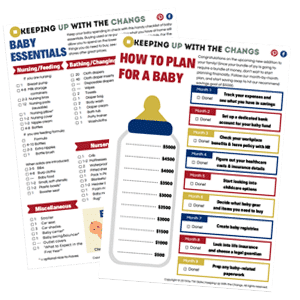 WANT A FREE BABY ESSENTIALS CHECKLIST & BABY SAVINGS PLAN?
Get this two-part printable:
Essentials checklist:

Baby must-have items
Highly recommended and optional products
Estimated budget per category

Savings plan:

One major financial task per month
Fun savings tracker
Tip 6. Slow down on sizing up.
The smaller the diapers, the more you tend to get in a single package or box. The prices for each package stay pretty much the same within a brand, but the number of diapers you get in each pack decreases as you get bigger in size.
I've consistently found that the recommended weights for each diaper size were too conservative. I was able to keep my son in the smaller diapers for longer without any problems.
Even if the size is iffy, you can usually get away with using the smaller diapers at home in the daytime.
And if you are ultra concerned that you won't be able to use up all the diapers before you need to size up, then consider splitting the bulk purchase with someone who has a baby that's similar to your munchkin in age, or sell off the extras on Craigslist.
Tip 7. Don't stick with one brand.
If you're not loyal to a specific brand, then you have more flexibility in buying whatever diapers are on sale.
Tip 8. Wait for a sale and stock up.
Speaking of sales, if you do come across a good one, take advantage of the opportunity to stock up. Try not to go overboard, though, because your little one will always outgrow them at some point. My "stockpile" is usually about 3-4 packs.
Tip 9. Sign up for rewards programs and mailing lists.
If you do find yourself keen on buying certain brands, sign up for their rewards program if they have one (like Pampers or Huggies does), or the company's email list. They'll often send you coupons for their products.
Conclusion
It's not hard to find cheap diapers if you know how to shop strategically. Go for the convenient Amazon subscribe and save option or Target's subscription service for hassle-free savings, or try any of our other smart tips to save money on diapers for your baby.
SPREAD THE WEALTH, SHARE THIS POST!
AUTHOR BIO
Sylvia, aka Mama Chang, is a personal finance blogger out to prove the possibility of navigating high-cost living on a low-cost budget. Paid off college and condo in her 20's on under $55k salary. She wants to teach others how optimize money to maximize quality of life. Dual income with kids, based in Hawaii.
Hangs out on Keeping Up with the Changs: Pinterest