Snag these free large cursive worksheets! We hope you enjoy our large print beginner cursive printable in PDF!
This alphabet tracing set includes bigger uppercase and lowercase alphabet practice with sample words for tracing
Looking for more freebies? Check out the rest of our worksheets and activity sheets!
---
---
Disclosure: Opinions expressed are our own. If you buy something through any of our affiliate links on this page, we may earn a commission at no extra cost to you. Thanks for supporting our site!
Jump to:
Rules of Use
All free files for kids or for adults on KeepingUpChangs.com are for personal and single classroom use only.
We put a lot of love and labor into creating these resources and offering it for free on the internet. To help offset the costs associated with running this website, please:
Do not share or redistribute files directly. In order to share, use the URL to this website and or webpage, NOT to the file itself.
Do not resell, copy, sub-license file in its original or modified format in any physical or digital form.
Do not upload or use this design on any file sharing (eg. Dropbox, GoogleDrive) or print-on-demand (POD) site (eg. Printful, Zazzle).
If you are a teacher, please use these for your classroom only. Other teachers may visit our site to download their own copy for their classroom use.
Do not claim rights to copyright of any part of the file or design.
Do not use files for any commercial purpose.
Thank you for respecting our energy and investment in making these free printables available to everyone!
Description of Cursive Practice Sheets Layout
Each letter of the alphabet includes the following pages:
Page 1:

One line to practice the uppercase letter
One line to practice the lowercase letter
One line with a word that starts with the letter

Page 2:

Additional lines to practice the uppercase letter
Extra lines to practice the lowercase letter
Since there are blank lines on the second page, you can also opt to practice the word as well, such as by the following:
First 2 lines to practice the uppercase letter
Third line to practice word with the uppercase letter at the beginning
Next two lines to practice the lowercase letter
Final line to practice the word with the lowercase letter at the start
Big Cursive Printable Worksheet to Print
HOW TO FIND DOWNLOAD LINK FOR FREE PRINTABLE(S):
Click the preview image or link underneath each image to access the desired printable. Links will open in Dropbox or Google Drive in a new tab.
On the Dropbox or Google Drive page, look for the download icon and button along the top of the screen to save a copy to your device. This works best on a laptop or desktop computer.
Some companies and schools block your computer or work/school-associated email from accessing Dropbox or Google Drive. If that is the case, please visit our website from a personal device and email.
If you try to request access through Dropbox or Google, work/school servers often block our email address from being allowed to grant you access.
Note: You do not need to create an account to grab the free printables. If you are prompted to create an account, simply click away from that window to head back to the screen that should allow you access to download.
Spread the Word:
[Sharing our resources helps us continue to offer our files for no charge, so please consider saving or sharing this post. Thank you!]
Large letters A - D
Capital A, little a, apple
Capital B, little b, ball
Capital C, little c, cat
Capital D, little d, dog
Large letters E - H
Capital E, little e, egg
Capital F, little f, fish
Capital G, little g, goat
Capital H, little h, horse
Large letters I - L
Capital I, little i, igloo
Capital J, little j, jeep
Capital K, little k, koala
Capital L, little l, lion
Large letters M - P
Capital M, little m, moon
Capital N, little n, nest
Capital O, little o, owl
Capital P, little p, pig
Large letters Q - T
Capital Q, little q, queen
Capital R, little r, rat
Capital S, little s, snake
Capital T, little t, tiger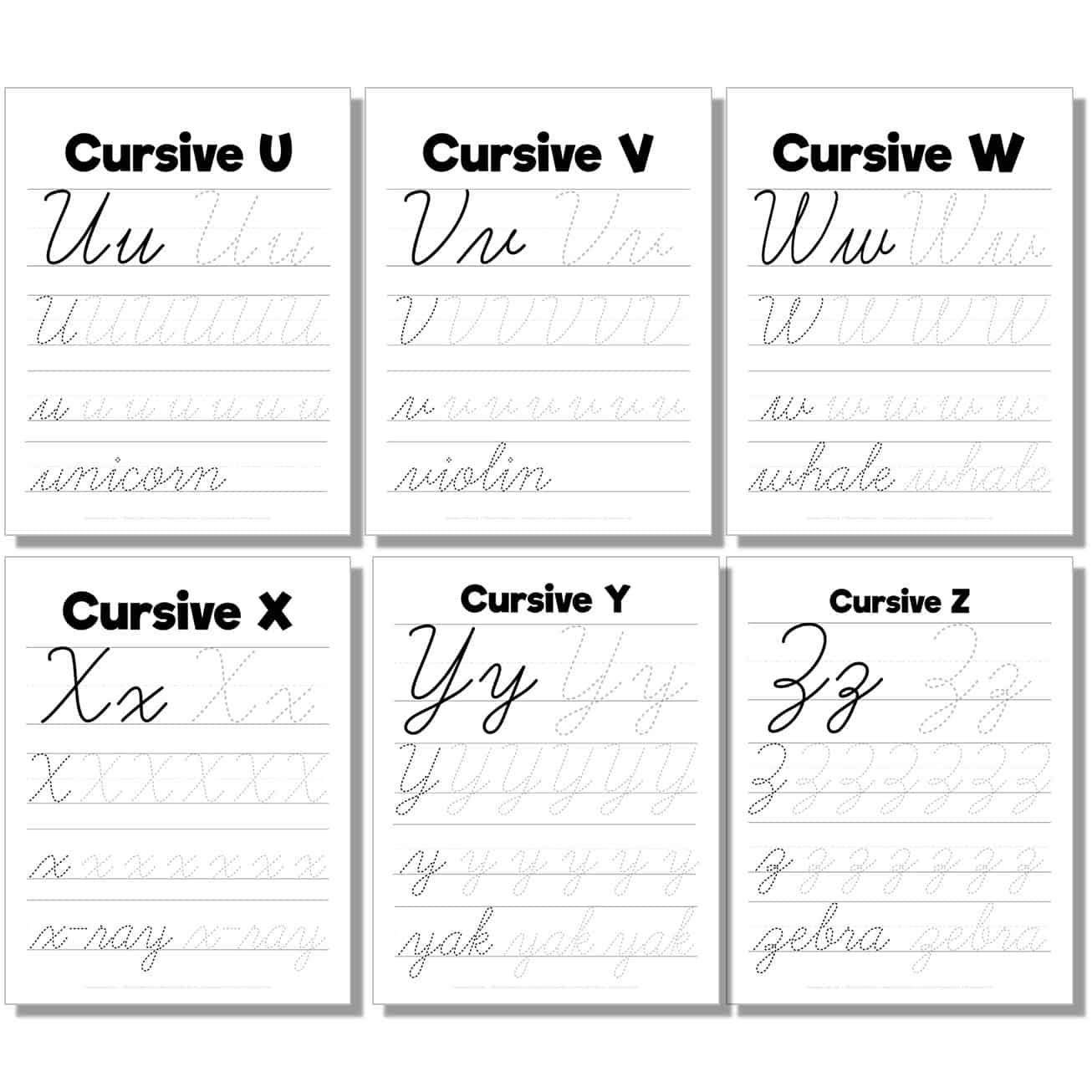 Large letters U - Z
Capital U, little u, unicorn
Capital V, little v, violin
Capital W, little w, whale
Capital X, little x, x-ray
Capital Y, little y, yak
Capital Z, little z, zebra
Conclusion
Download any of these best free big cursive alphabet letter printable worksheets for handwriting and tracing practice today!
Spread the Word:
[Sharing our resources helps us continue to offer our files for no charge, so please consider saving or sharing this post. Thank you!]
More A to Z Alphabet Resources You Will Like