Snag this free Christmas around the world jeopardy game! We hope you enjoy our Christmas around the world jeopardy trivia board printable in PDF!
Includes interesting international-themed trivia categories, questions and answers
Use as a school classroom activity or as a filler Christmas party game idea for groups during the holiday season
Looking for more freebies? Check out the rest of our Christmas activities or jeopardy and trivia games!
HOW TO FIND DOWNLOAD LINK FOR FREE PRINTABLE(S):
Look for a colored box in this same light green shade towards the end of this post. There you will find the hyperlink to snag the freebie.
---
---
Disclosure: Opinions expressed are our own. If you buy something through any of our affiliate links on this page, we may earn a commission at no extra cost to you. Thanks for supporting our site!
Jump to:
Christmas Games Bundle on Sale Now!
Snag our mega pack of our most popular Christmas game printables bundle for half off!
You get: 100+ Christmas bingo cards, 150+ Christmas charades and pictionary cards, Christmas left right gift exchange games, Christmas trivia, Christmas jeopardy, and more fun games!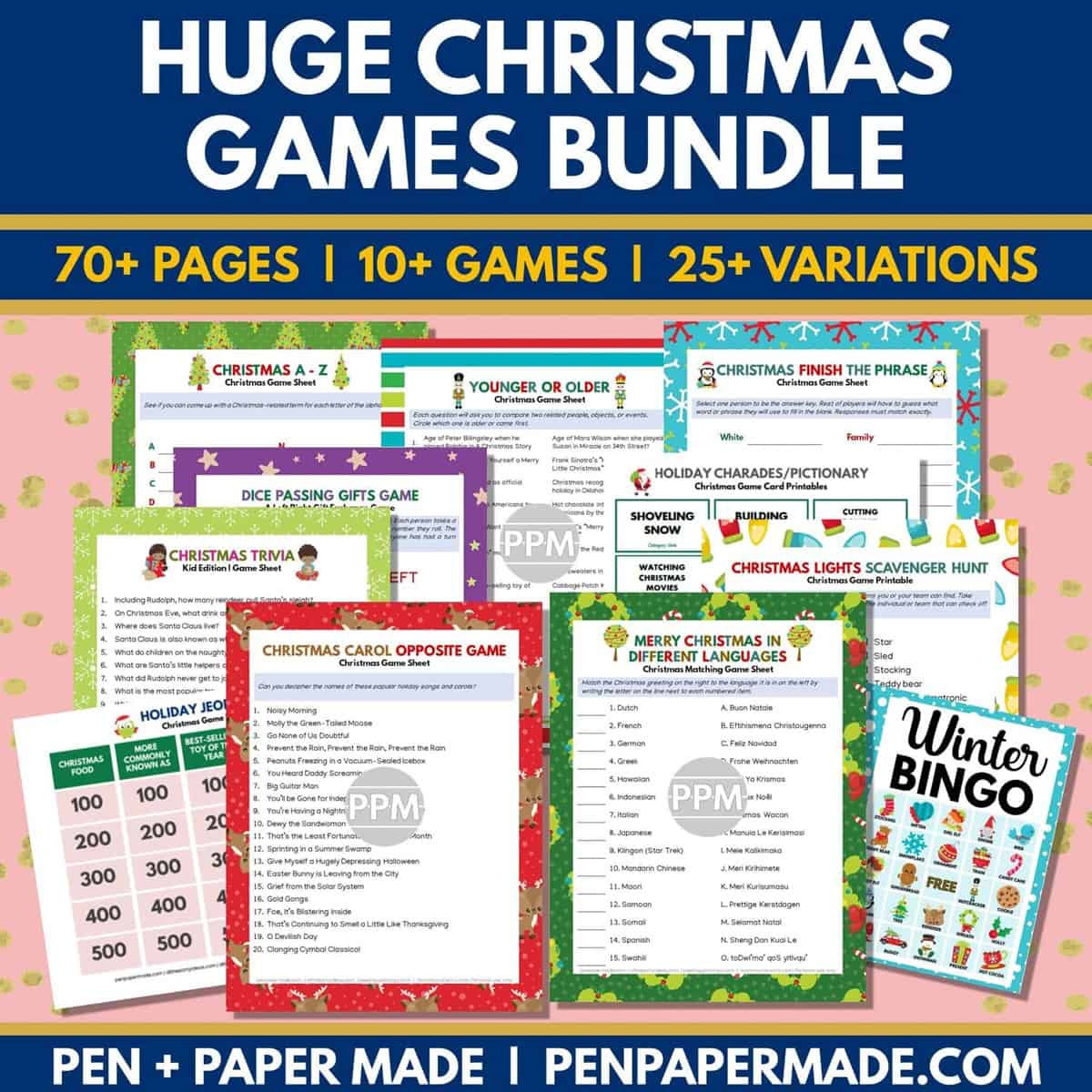 ---
Rules of Use
All free files for kids or for adults on KeepingUpChangs.com are for personal and single classroom use only.
We put a lot of love and labor into creating these resources and offering it for free on the internet. To help offset the costs associated with running this website, please:
Do not share or redistribute files directly. In order to share, use the URL to this website and or webpage, NOT to the file itself.
Do not resell, copy, sub-license file in its original or modified format in any physical or digital form.
Do not upload or use this design on any file sharing (eg. Dropbox, GoogleDrive) or print-on-demand (POD) site (eg. Printful, Zazzle).
If you are a teacher, please use these for your classroom only. Other teachers may visit our site to download their own copy for their classroom use.
Do not claim rights to copyright of any part of the file or design.
Do not use files for any commercial purpose.
Thank you for respecting our energy and investment in making these free printables available to everyone!
Jeopardy Game Components
Our printable game includes the following elements:
1 round of questions and answers (game board includes 5 categories, with 5 questions per category)
Daily Double question and answer
Final round question and answer
Christmas Around the World Jeopardy Categories
In our free printable, you will find the following categories:
Santa by Another Name (in different languages)
O Christmas Tree
International Holiday Traditions
Guinness World Records
Other December Festivities
The fun Christmas Jeopardy game includes a sixth category: Winter Sports.
Around the World Christmas Jeopardy Question and Answers
Santa by Another Name
100: "Papa Noel" is Santa Claus in this language.
What is Spanish?
200: "Père Noël" is Santa Claus in this language.
What is French?
300: "Hoteiosho" is a gift-bearing god or priest in this language.
What is Japanese?
400: "Babbo Natale" is Santa Claus in this language.
What is Italian?
500: "Ded Moroz" is Grandfather Frost in this language.
What is Russian?
O Christmas Tree
100: A majority of Christmas lights are sourced from this country.
Where is China?
200: The largest plastic bottle tree in Lithuania used this green soda bottle.
What is Sprite?
300: The most expensively decorated tree can be found in this rich country.
Where is the United Arab Emirates?
400: The first Rockefeller tree from outside the US hailed from this country.
Where is Canada?
500: People in India decorate this type of fruit tree for the holidays.
What is a mango tree?
Interesting Traditions
100: The Finnish visit this relaxing place on Christmas Eve.
What is a sauna?
Daily Double: Nativity scenes carved from this root vegetable in Mexico.
What are radishes?
300: These are decorated with Christmas lights in seafaring Greece.
What are boats?
400: Fish heads hang in doorways in place of these in Antarctica.
What is mistletoe?
500: Christmas festivities start in September in this Asian country.
Where is the Philippines?
Holiday Guinness World Records
100: The largest gathering of these helpers happened in Thailand (2014).
What are elves? (1762 of them)
200: Amy Smith ran this the fastest in Santa gear (2013).
What is a marathon? (in 3 hours and 43 minutes)
300: The largest indoor light display is at this theme park in Singapore (2016)
What is Universal Studios? (which consisted of 824,961 bulbs)
400: This was the tallest ever made of ice in Maine, US (2008).
What is a snow(wo)man? (named Olympia, and who stood over 122 feet)
500: The largest group of carolers sang 6 songs in this African country (2014).
Where is Nigeria? (with a total of 25,272 carolers)
Other December Festivities
100: This Jewish holiday lasts for 8 nights and days.
What is Hanukkah?
200: This week-long holiday celebrates African heritage.
What is Kwanzaa?
300: This holiday, originating in the UK, is the day after Christmas.
What is Boxing Day?
400: This holiday in January celebrates the 3 Wise Men
What is Three Kings Day?
500: St. Lucia's Day is mainly celebrated in this part of Europe
Where is Scandinavia?
Free Christmas Jeopardy Around the World Printable Game Board to Download
HOW TO DOWNLOAD FREE PRINTABLE(S):
Click the download link in the green shaded box below to access the desired printable(s). Link will open in Dropbox or Google Drive in a new tab.
On the Dropbox or Google Drive page, look for the download icon and button along the top of the screen to save a copy to your device. This works best on a laptop or desktop computer.
Some companies and schools block your computer or work/school-associated email from accessing Dropbox or Google Drive. If that is the case, please visit our website from a personal device and email.
If you try to request access through Dropbox or Google, work/school servers often block our email address from being allowed to grant you access.
Note: You do not need to create an account to grab the free printables. If you are prompted to create an account, simply click away from that window to head back to the screen that should allow you access to download.
More Christmas Resources You Will Like