Lots of free Christmas bingo cards for a fun Christmas party idea or winter-themed educational activity in the classroom! A fun variety including:
In color or black and white for coloring in 5x5, 4x4, and 3x3 grids
With images and text to appeal to kids and adults of all ages and learning abilities including ESL
Looking for more freebies? Check out the rest of our free Christmas activities or bingo game cards
HOW TO FIND DOWNLOAD LINK FOR FREE PRINTABLE(S):
This is a round-up post that showcases the various versions we offer. Simply click on the preview image or link underneath the image to head to the blog post where you can get the free download.
---
---
Disclosure: Opinions expressed are our own. If you buy something through any of our affiliate links on this page, we may earn a commission at no extra cost to you. Thanks for supporting our site!
Jump to:
Christmas Games Bundle on Sale Now!
Snag our mega pack of our most popular Christmas game printables bundle for half off!
You get: 100+ Christmas bingo cards, 150+ Christmas charades and pictionary cards, Christmas left right gift exchange games, Christmas trivia, Christmas jeopardy, and more fun games!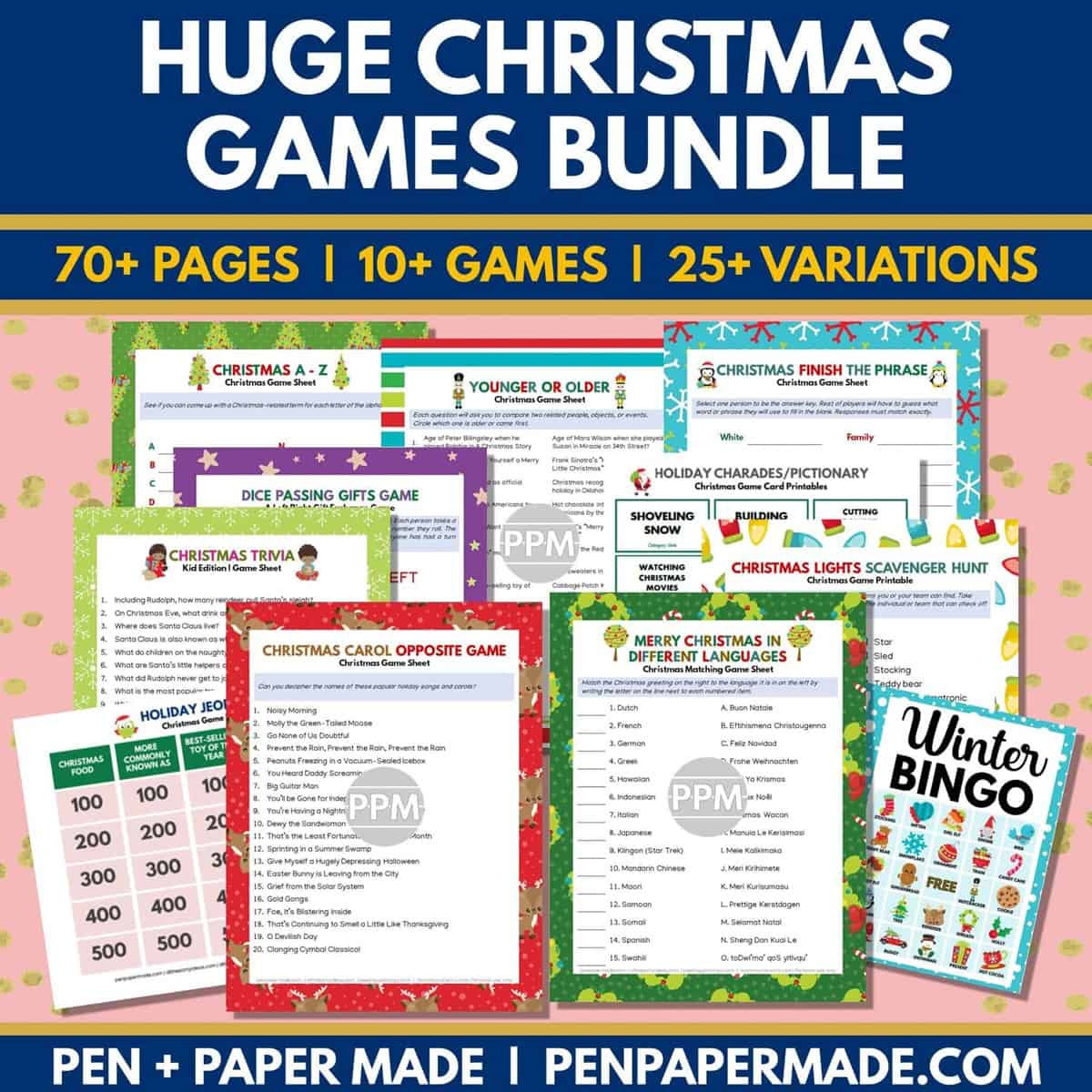 ---
How to Play Christmas Bingo
This is a very simple overview for how to prepare for and play the game.
Host's Preparation
Print out bingo cards. You may also need to trim cards, such as if there are two 5 x 7 inch cards on a single sheet.
Prepare the calling tokens in a jar or container.
Set bingo markers for players. This can be pens, small objects like pom poms, or even candy.
Tip: If you plan to re-use the bingo cards, you may want to have them laminated.
Playing the Game
Before the game starts, pass out bingo cards and markers to participants and determine how bingo will be determined (see our tip below if you want to try something different than a single row).
The Bingo Caller will say each item until someone has gotten Bingo.
The player(s) with Bingo will need to shout a winning phrase, like "Bingo!".
Pass out prizes and/or play again!
How to Make Christmas Bingo More Fun
Here are easy, simple ways to modify the traditional game of bingo to shake things up a little.
Tip 1: Choose a different winning combination.
Instead of a traditional vertical, horizontal or diagonal row to win bingo, opt for other formations like the outside border, a letter like an X or S, an arrow or other fun shapes.
Tip 2: Use food.
Everybody loves to eat! Use festive colored candies like M & Ms to mark off items on the bingo cards that have been called. Peppermint candies works perfectly for Christmas!
Tip 3: Go with a theme.
This can be as simple as the winner shouting another word in place of "Bingo!", like "Jolly!". Or, create a narrowed theme that suits this December occasion, like Winter Wonderland, and complete the vibe with matching decorations, food and drinks, music and more.
Tip 4: Double the stakes.
Give participants 2 cards to play at the same time. You can also double the prize.
Tip 5: Add mystery.
The coveted prize can be kept a secret until the very end when the winner opens the mystery prize in front of all. It can be an enticing treat or a gag gift for fun laughs.
Free Printable Christmas Bingo Game Variations
Find the best free winter and Christmas bingo cards that are:
printer-friendly in black or white or with pops of color
perfect for any occasion or situation, from school to a Christmas party
all available as digital PDF files, meaning you can print them instantly
Images on cards include festive symbols like:
Holiday characters like the elf, snowman, reindeer, and nutcracker
Fun treats like gingerbread, hot cocoa, and candy canes
Religious Nativity symbols like Jesus, Mary, the Star of Bethlehem
HOW TO FIND DOWNLOAD LINK FOR FREE PRINTABLE(S):
This is a round-up post that showcases the various versions we offer. Simply click on the preview image or link underneath the image to head to the blog post where you can get the free download.
Spread the Word:
[Sharing our resources helps us continue to offer our files for no charge, so please consider saving or sharing this post. Thank you!]
For Large Groups of All Ages (Kids & Adults)
Use this typically-sized 5 x 5 game board that has a free space in the center with color pictures and words. Perfect activity for any Christmas or winter-themed party!
5x5 Christmas bingo in color
For Coloring (Kids & Adults)
This 5 x 5 uses simple black and white images and text waiting to be played and colored in.
5x5 Christmas bingo in black and white
For Elementary School Children
Try this smaller 4 x 4 grid with pictures and text in color for a medium-paced bingo game.
4x4 Christmas bingo in color
For Young Children to Color
Folks can add color to their heart's content with these grayscale 4 x 4 bingo cards that have holiday-themed images and words for coloring.
4x4 Christmas bingo in black and white
For Toddlers and Preschool
For a fast-paced game, play with this 3 x 3 set, which includes 18 unique and colorful images with text.
3x3 Christmas bingo in color
For Kindergarten or First Grade
Use a minimal amount of ink with these simple 3 x 3 bingo cards with pictures and words in black and white. Add coloring as an activity for toddlers and young kids who are just starting out in school.
3x3 Christmas bingo in black and white
Winter Bingo in Color
A non-denominational set of items that is appropriate for public school use. Comes in 5x5, 4x4, and 3x3 grids.
Winter bingo in color
Winter Bingo for Coloring
Black and white winter-themed items in 5x5, 4x4, or 3x3 grids. Use to play bingo as well as for a coloring activity.
Winter bingo in black and white
Hallmark Movies
If you love cuddling up to watch feel-good Christmas movies, use this bingo as a fun way to enjoy all your favorite moments.
Christmas movie bingo
Christmas Lights
If you're taking a tour of the holiday lights in the neighborhood, use this printable that has a text only version as well as one with pictures and words so anyone in the family can play along.
Christmas lights bingo
Christmas Music
Indulge in the best Christmas songs and carols with this bingo game. A perfect background activity at a Christmas party or while engaging in holiday errands like wrapping presents.
Christmas songs bingo
Human or People Bingo
For a family-friendly office party or teambuilding activity, use this getting-to-know-you icebreaker bingo activity filled with winter and Christmas themed facts.
Christmas icebreaker bingo
Christmas Acts of Kindness Bingo
Pay it forward with this holiday random acts of kindness challenge to get into the spirit of giving.
Christmas kindness bingo challenge
Bible Nativity for All Ages
For those wanting to celebrate the birth of Jesus Christ, use this 5x5 grid with color pictures and words.
5x5 Bible Nativity bingo
Nativity Bible for Sunday School
Use this 4x4 set of colored pictures with text to honor the reason for the season. Suitable for church gatherings or Sunday School.
4x4 Christmas Nativity bingo
Bible Nativity For Young Children
For the littlest ones, use this 3 x 3 grid with vibrant images and text in color.
3x3 Bible Christmas bingo
Blank Template Cards
And if you're wanting to create your very own winter-themed bingo game, then these blank bingo cards in 3 x 3, 4 x 4, or 5 x 5 in color or black and white should come in handy.
Blank Christmas Bingo Templates
Conclusion
Download any of our free Christmas bingo pdf templates today.
More Christmas Resources You Will Like