Snag this free Christmas bingo 3 x 3 printable for coloring! Get 12 unique game card boards at the end of this post.
An easy Christmas bingo game with black and white images and words to use with toddlers, preschool kindergarten, and first grade students
Use as an early childhood education classroom activity to teach kids how to read, school for beginner ESL students, or other simple Christmas activity idea for a group gathering in the winter
Looking for more freebies? Check out the rest of our Christmas-themed games and activities or bingo game card printables!
---
---
Disclosure: Opinions expressed are our own. If you buy something through any of our affiliate links on this page, we may earn a commission at no extra cost to you. Thanks for supporting our site!
Jump to:
Christmas Games Bundle on Sale Now!
Snag our mega pack of our most popular Christmas game printables bundle for half off!
You get: 100+ Christmas bingo cards, 150+ Christmas charades and pictionary cards, Christmas left right gift exchange games, Christmas trivia, Christmas jeopardy, and more fun games!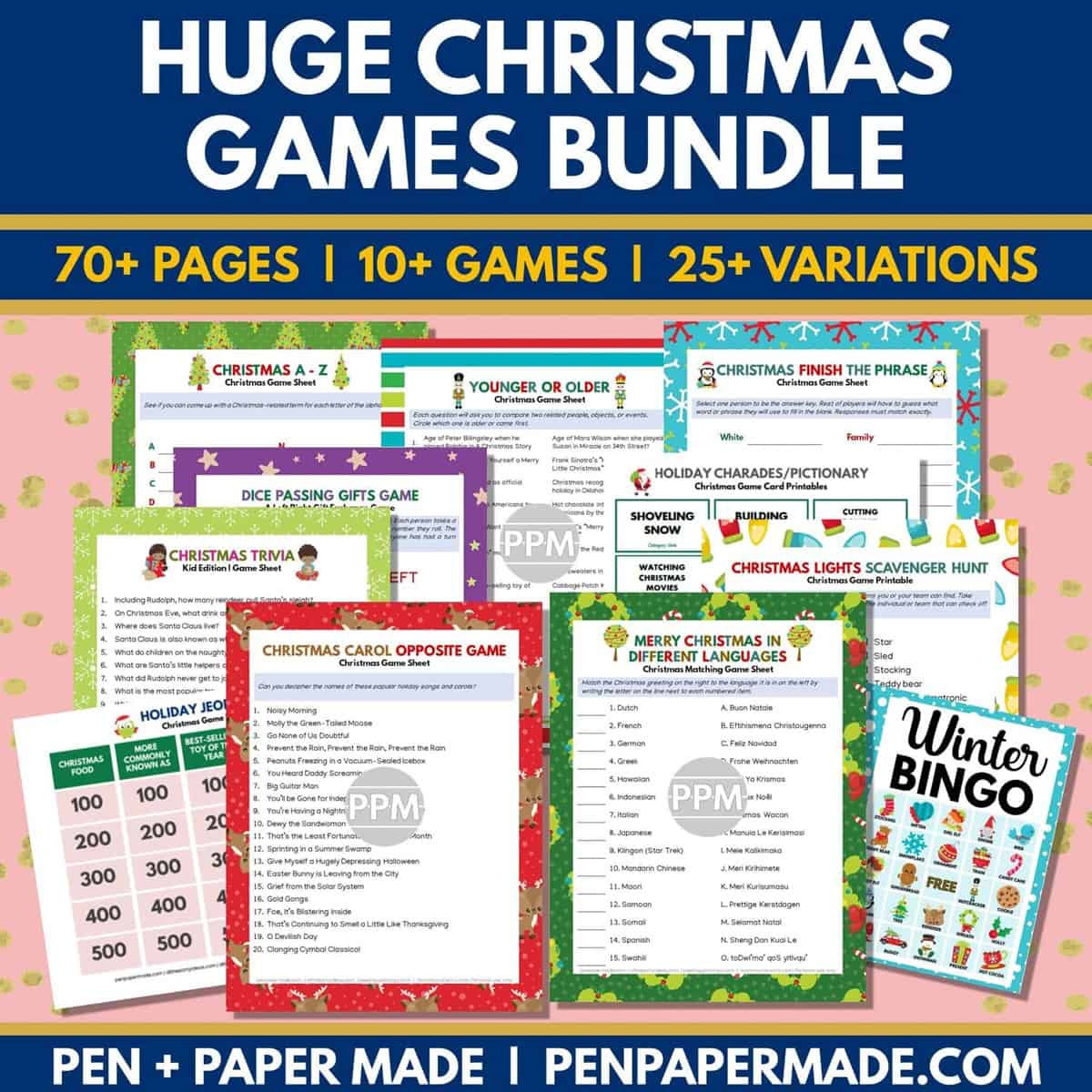 ---
Print
How to Play Winter Christmas Bingo for Coloring [3x3 Grid]
A fun, quick 2-in-1 Christmas winter activity. This 3 x 3 grid with black and white picture image outlines and accompanying word text is perfect for toddlers, preschool, kindergarten, and young children or beginner English language learners (ESL).
Play this as a bingo game and use as a coloring activity too!
Materials
Free 3 x 3 Christmas Bingo Printable for coloring

with words and pictures in black and white

Calling card or chips

2 versions of printable chips included in freebie file

Bingo markers or chips

Go simple with a pen or be more festive with black buttons or other themed item to mark off items on the bingo card; printable markers are also included in freebie file

Jar or container for host to hold chips to call out squares

optional

Crayons, colored pencils or markers
Instructions
Pre-Game Preparation
Print and cut out 5x7 bingo cards. Note that the left side of each sheet contains the same 9 images and the right side of each sheet contains a separate set of 9 images.

For the calling card, print any one page of game cards (both cards on a single sheet includes different images so make sure the full sheet is used).

Cut out each individual square token to put in a jar/container that the host will pick out each turn.

Prepare chips, markers, or objects for players to keep track of what's been called on their bingo game board.

Each player should have their own set of markers. Use the printable bingo chips included in the PDF file, or get creative with festive items such as black buttons or M&Ms.
Bingo Game in Play
Pass out Christmas bingo printable and bingo markers to participants.

Decide how Bingo will be determined. You may try 3 in a row (vertically, horizontally, or diagonally), 2 rows, a square border or some other variation.

Note that blackout bingo will not work if you are playing to win since game cards include the same images.

One person will need to serve as the Bingo Caller who will pick out the tokens and make the calls. This person should make sure that other players cannot see what is inside the jar/container.

When the game is ready to be started, the Bingo Caller can draw the first token. Read what it is, show the token and/or provide a description so people can find it on their card. Wait until everyone has marked the box on their card.

The Bingo Caller should display the call tokens for people to reference easily and then draw a new token. Players should check the new image on their cards to mark off. Game continues as so for each round.

The first person to get Bingo should indicate so by shouting, "Bingo!". Or, change the winning phrase to shout to match this December occasion, such as "Merry Christmas" or "Winter!".
Coloring Activity
Let folks color their cards before or after the bingo game as another enjoyable, optional activity.
Notes
The game takes about 5-20 minutes to complete. Times will vary based on the game board grid, number of rows to complete, age group of players, among other factors.
Each page of the PDF contains 2 5 x 7 inch bingo game cards. As stated above, the left card of each pages uses the same 9 images while the right card of each page uses a different set of 9 images.
Christmas Bingo Game & Coloring Activity for Early Readers
Content and/or features: This Christmas bingo board contains a 3x3 grid. There is no free space on this game board.
There are 2 sets of game cards. All cards on the left share the same 9 items and all cards on the right share a different set of 9 things.
The first set of 9 color items on each card:
Teddy bear
Boy elf
Elf feet
Gingerbread man
Reindeer
Snowman
Wreath
Candy cane
Mitten
The second set of 9 color items on each card:
Stocking
Decorated Christmas tree
Snowflake
Girl elf
Gnome
Gift present
Hot cocoa
Scarf
Holly berry
Color: This printable is in black and white and contains outlined images that is meant for coloring. Short word text descriptions are also provided for each picture. It is printer-friendly in grayscale.
Format and/or number of pages: Game boards are 5 x 7 inches. There are two cards per 8.5 x 11 inch sheet as a non-editable PDF. Cut lines are provided for your convenience.
Note: For the calling card, simply cut out all 18 squares on a single page (which contains 2 card with 9 images each).
---
Rules of Use
All free files for kids or for adults on KeepingUpChangs.com are for personal use only.
We put a lot of love and labor into creating these resources and offering it for free on the internet. To help offset the costs associated with running this website, please:
Do not share or redistribute files directly. In order to share, use the URL to this website and or webpage, NOT to the file itself.
Do not resell, copy, sub-license file in its original or modified format in any physical or digital form.
Do not upload or use this design on any file sharing (eg. Dropbox, GoogleDrive) or print-on-demand (POD) site (eg. Printful, Zazzle).
Do not claim rights to copyright of any part of the file or design.
Do not use files for any commercial purpose.
Thank you for respecting our energy and investment in making these free printables available to everyone!
Free Printable PDF