Snag this free Bible Nativity Christmas jeopardy game! We hope you enjoy our Christmas nativity bible jeopardy trivia board printable in PDF!
Includes interesting religious-themed trivia categories, questions and answers
Use as a Sunda school classroom activity or as a filler Christmas party game idea for church groups during the winter season
Looking for more freebies? Check out the rest of our Christmas winter activities or trivia and jeopardy game printables!
HOW TO FIND DOWNLOAD LINK FOR FREE PRINTABLE(S):
Look for a colored box in this same light green shade towards the end of this post. There you will find the hyperlink to snag the freebie.
---
---
Disclosure: Opinions expressed are our own. If you buy something through any of our affiliate links on this page, we may earn a commission at no extra cost to you. Thanks for supporting our site!
Jump to:
Christmas Games Bundle on Sale Now!
Snag our mega pack of our most popular Christmas game printables bundle for half off!
You get: 100+ Christmas bingo cards, 150+ Christmas charades and pictionary cards, Christmas left right gift exchange games, Christmas trivia, Christmas jeopardy, and more fun games!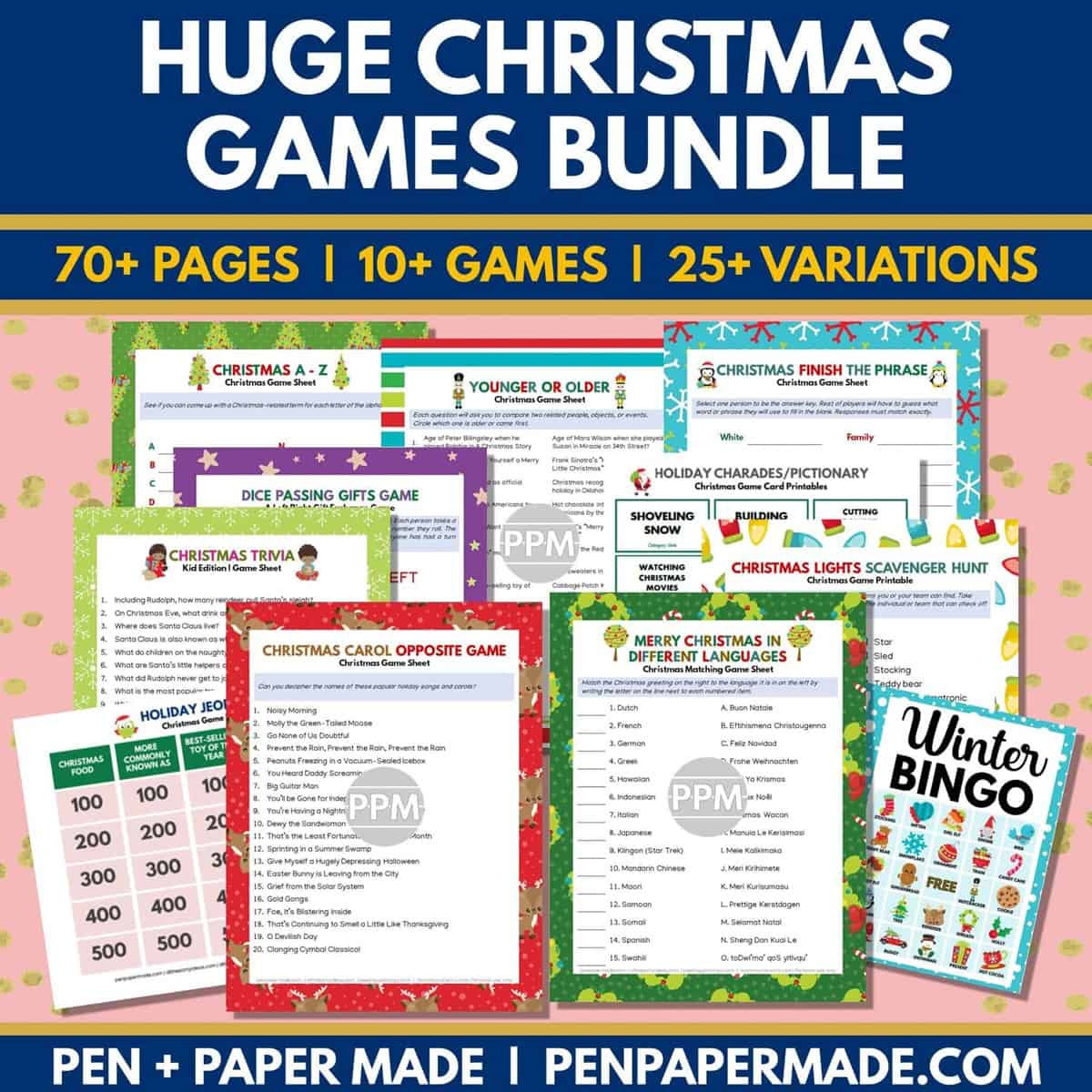 ---
Rules of Use
All free files for kids or for adults on KeepingUpChangs.com are for personal and single classroom use only.
We put a lot of love and labor into creating these resources and offering it for free on the internet. To help offset the costs associated with running this website, please:
Do not share or redistribute files directly. In order to share, use the URL to this website and or webpage, NOT to the file itself.
Do not resell, copy, sub-license file in its original or modified format in any physical or digital form.
Do not upload or use this design on any file sharing (eg. Dropbox, GoogleDrive) or print-on-demand (POD) site (eg. Printful, Zazzle).
If you are a teacher, please use these for your classroom only. Other teachers may visit our site to download their own copy for their classroom use.
Do not claim rights to copyright of any part of the file or design.
Do not use files for any commercial purpose.
Thank you for respecting our energy and investment in making these free printables available to everyone!
Jeopardy Game Components
Our printable game includes the following elements:
1 round of questions and answers (game board includes 5 categories, with 5 questions per category)
Daily Double question and answer
Final round question and answer
Christmas Jeopardy Bible Nativity Categories
In our free printable, you will find the following categories:
Popular Hymns
By Another Name
Family Tree
Bible Places
All About Advent
The Christmas Jeopardy powerpoint game includes a sixth category: Books of the Bible.
Nativity Bible Christmas Jeopardy Question and Answers
Popular Hymns
100: "All is calm, all is bright."
What is "Silent Night"?
200: "O come and behold Him, born the King of Angels".
What is "O Come, All Ye Faithful"?
300: "Let Earth receive her King!"
What is "Joy to the World! The Lord is Come"?
400: "Peace on Earth and mercy mild, God and Sinners reconciled".
What is "Hark! The Herald Angels Sing"?
500: "The world in solemn stillness lay to hear the angels sing."
What is "It Came Upon a Midnight Clear"?
By Another Name
100: The calendar used to count down days until Jesus' birth.
What is Advent?
200: Bethlehem is known as the city of this king.
Who is David?
300: This word refers to the birth of Jesus.
What is Nativity?
400: Another word for the Three Wise Men.
What is Magi?
500: Jesus is also identified by this name, meaning "God with Us."
What is Immanuel or Emmanuel?
Family Tree
100: Mother of Jesus.
Who is Mary?
200: The person to whom Mary was betrothed.
Who is Joseph?
300: Cousin of Mary who sheltered her while she was pregnant with Jesus.
Who is Elisabeth?
400: Jesus' second cousin, just a few months older, son of Zacharias and Elisabeth.
Who is John the Baptist?
Daily Double: Joseph's father, according to the Old Testament.
Who is Jacob?
Bible Places
100: The city Mary and Joseph were headed to for the census.
Where is Bethelehem?
200: Country Joseph was told to flee to after the birth of Jesus.
Where is Egypt?
300: Town where Angel Gabriel told Mary she was pregnant.
Where is Nazareth?
400: River where Jesus was baptized.
Where is the Jordan River?
500: After King Herod's death, an angel tells Joseph to go to this land.
Where is Israel?
All about Advent
100: The duration of Advent.
What is 4 weeks (or 4 Sundays)?
200: The candle lit on the first Sunday of Advent represents this.
What is hope?
300: Circular garland of greenery that holds the Advent candles.
What is a wreath?
400: This color represents the third Sunday of Advent.
What is pink or rose?
500: The fifth and last candle in the wreath's center represents this.
What is the Christ candle?
Free Christmas Nativity Bible Jeopardy Printable Game Board to Download
HOW TO DOWNLOAD FREE PRINTABLE(S):
Click the download link in the green shaded box below to access the desired printable(s). Link will open in Dropbox or Google Drive in a new tab.
On the Dropbox or Google Drive page, look for the download icon and button along the top of the screen to save a copy to your device. This works best on a laptop or desktop computer.
Some companies and schools block your computer or work/school-associated email from accessing Dropbox or Google Drive. If that is the case, please visit our website from a personal device and email.
If you try to request access through Dropbox or Google, work/school servers often block our email address from being allowed to grant you access.
Note: You do not need to create an account to grab the free printables. If you are prompted to create an account, simply click away from that window to head back to the screen that should allow you access to download.
More Christmas Resources You Will Like