Snag this free general Christmas jeopardy game! We hope you enjoy our classic Christmas jeopardy trivia board printable in PDF!
Includes classic holiday-themed trivia categories, questions and answers
Use as a school classroom activity or as a filler Christmas party game idea for groups during the winter season
Looking for more freebies? Check out the rest of our winter Christmas activities or trivia and jeopardy games!
HOW TO FIND DOWNLOAD LINK FOR FREE PRINTABLE(S):
Look for a colored box in this same light green shade towards the end of this post. There you will find the hyperlink to snag the freebie.
---
---
Disclosure: Opinions expressed are our own. If you buy something through any of our affiliate links on this page, we may earn a commission at no extra cost to you. Thanks for supporting our site!
Jump to:
Christmas Games Bundle on Sale Now!
Snag our mega pack of our most popular Christmas game printables bundle for half off!
You get: 100+ Christmas bingo cards, 150+ Christmas charades and pictionary cards, Christmas left right gift exchange games, Christmas trivia, Christmas jeopardy, and more fun games!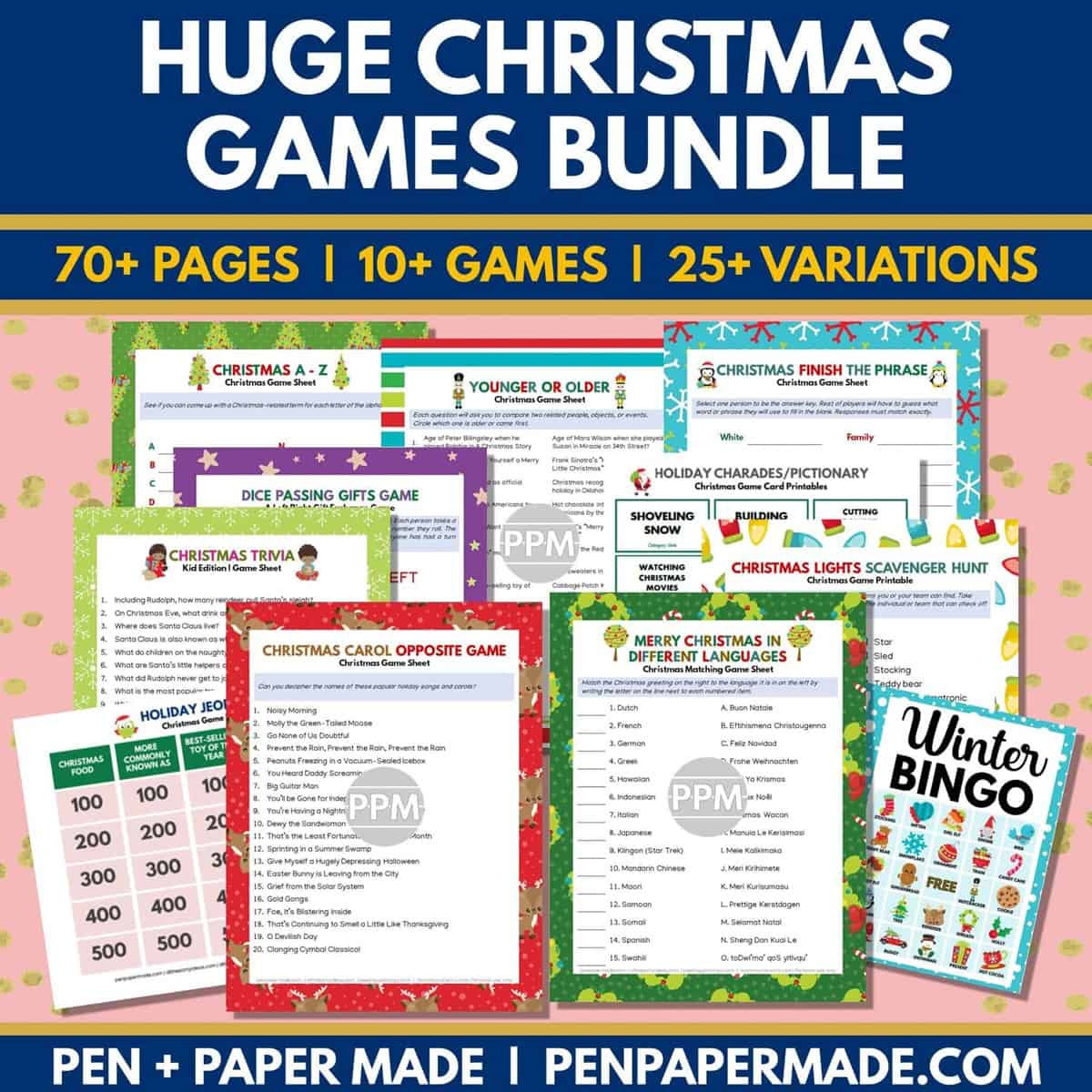 ---
Rules of Use
All free files for kids or for adults on KeepingUpChangs.com are for personal and single classroom use only.
We put a lot of love and labor into creating these resources and offering it for free on the internet. To help offset the costs associated with running this website, please:
Do not share or redistribute files directly. In order to share, use the URL to this website and or webpage, NOT to the file itself.
Do not resell, copy, sub-license file in its original or modified format in any physical or digital form.
Do not upload or use this design on any file sharing (eg. Dropbox, GoogleDrive) or print-on-demand (POD) site (eg. Printful, Zazzle).
If you are a teacher, please use these for your classroom only. Other teachers may visit our site to download their own copy for their classroom use.
Do not claim rights to copyright of any part of the file or design.
Do not use files for any commercial purpose.
Thank you for respecting our energy and investment in making these free printables available to everyone!
Jeopardy Game Components
Our printable game includes the following elements:
1 round of questions and answers (game board includes 5 categories, with 5 questions per category)
Daily Double question and answer
Final round question and answer
Christmas Jeopardy Categories
In our free printable, you will find the following categories:
Christmas Food
More Commonly Known As (song titles)
Best-Selling Toy of the Year
By the Numbers (holiday-related statistics)
It's Not All About the Holidays (terms that are usually associated with this holiday in a non-holiday context)
The interactive Christmas Jeopardy games includes a sixth category: Funky Candy Cane Flavors.
Christmas Jeopardy Question and Answers
Christmas Food
100: Vegetable often used as a snowman's nose.
What is a carrot?
200: Type of fruit tree gifted by true love in "12 Days."
What is a pea?
300: Most popular type of cookie left out for Santa.
What is chocolate chip?
400: Candy that danced in kid's heads in "Twas Night Before Christmas."
What are sugar plums?
500: One of two ingredients used as sweetener in gingerbread.
What is honey or molasses?
More Commonly Known As
100: Original song title: "One Horse Open Sleigh."
What is "Jingle Bells"?
200: Original song title: "Tinkle Bells"
What is "Silver Bells"?
300: Original poem title: "A Visit by St. Nicholas."
What is "Twas the Night Before Christmas"?
400: Famous line from "The Christmas Song."
What is "Chestnuts Roasting Over an Open Fire"?
DAILY DOUBLE: Subtitled "Christmas Don't be Late," sung by trio of animals.
What is "The Chipmunk Song"?
Best-Selling Toy of the Year
100: This Disney doll (2014).
What is Elsa from Frozen?
200: This mode of transportation (2000).
What is a Razor Scooter?
300: This Japanese virtual pet (1997).
What is a Tamagotchi?
400: This 1983 doll craze inspired the movie Jingle All the Way.
What are Cabbage Patch Kids?
500: This stony toy (1970).
What is a pet rock?
By the Numbers
100: Highest grossing holiday film: Elf, Grinch or Home Alone.
What is Grinch? ($260 million)
200: The number of homes per second Santa would need to visit to deliver gifts on Eve: 900, 1200 or 1500.
What is 990 homes per second?
300: The person with largest collection of Santa stuff is from: US, France or Canada.
Who is Jean-Guy Laquerre of Canada? (over 25,000 items)
400: The number of billion of Christmas cards Americans send per year: 1, 1.5 or 2.
What is 1.5 billion Christmas cards?
500: The largest cup of hot cocoa (in gallons) achieved in CA, US: 780, 925 or 1190
What is 1190 gallons?
It's Not ALL about the Holidays
100: God of love who is a winged infant with bow & arrow.
Who is Cupid? (also the name of a reindeer)
200: Signature ice cream dessert from Wendy's.
What is Frosty? (like the Snowman)
300: 2000 movie starring Ben Affleck & Charlize Theron.
What is Reindeer Games? (as mentioned in "Rudolph the Red-Nosed Reindeer")
400: Acronym for cruelty-free vegan make-up line.
What is e.l.f. (eyes, lips, face)? (as in Santa's little helpers)
500: Australian territory in the Indian Ocean.
What is Christmas Island?
Free Christmas Jeopardy Printable Game Board
HOW TO DOWNLOAD FREE PRINTABLE(S):
Click the download link in the green shaded box below to access the desired printable(s). Link will open in Dropbox or Google Drive in a new tab.
On the Dropbox or Google Drive page, look for the download icon and button along the top of the screen to save a copy to your device. This works best on a laptop or desktop computer.
Some companies and schools block your computer or work/school-associated email from accessing Dropbox or Google Drive. If that is the case, please visit our website from a personal device and email.
If you try to request access through Dropbox or Google, work/school servers often block our email address from being allowed to grant you access.
Note: You do not need to create an account to grab the free printables. If you are prompted to create an account, simply click away from that window to head back to the screen that should allow you access to download.
More Christmas Resources You Will Like