Snag this free Christmas jeopardy game for kids! We hope you enjoy our kids Christmas jeopardy trivia board printable in PDF!
HOW TO FIND DOWNLOAD LINK FOR FREE PRINTABLE(S):
Look for a colored box in this same light green shade towards the end of this post. There you will find the hyperlink to snag the freebie.
---
---
Disclosure: Opinions expressed are our own. If you buy something through any of our affiliate links on this page, we may earn a commission at no extra cost to you. Thanks for supporting our site!
Jump to:
Christmas Games Bundle on Sale Now!
Snag our mega pack of our most popular Christmas game printables bundle for half off!
You get: 100+ Christmas bingo cards, 150+ Christmas charades and pictionary cards, Christmas left right gift exchange games, Christmas trivia, Christmas jeopardy, and more fun games!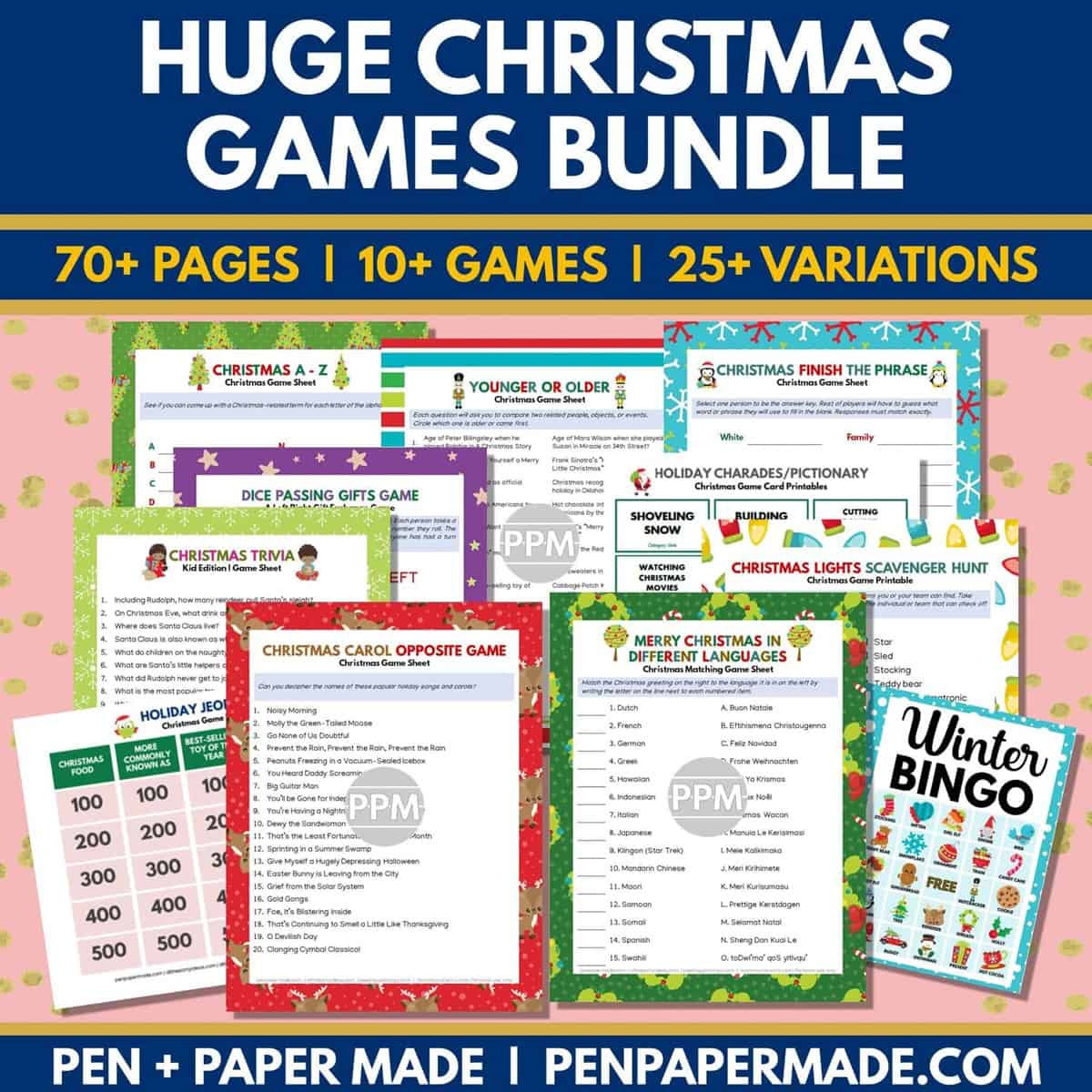 ---
Rules of Use
All free files for kids or for adults on KeepingUpChangs.com are for personal and single classroom use only.
We put a lot of love and labor into creating these resources and offering it for free on the internet. To help offset the costs associated with running this website, please:
Do not share or redistribute files directly. In order to share, use the URL to this website and or webpage, NOT to the file itself.
Do not resell, copy, sub-license file in its original or modified format in any physical or digital form.
Do not upload or use this design on any file sharing (eg. Dropbox, GoogleDrive) or print-on-demand (POD) site (eg. Printful, Zazzle).
If you are a teacher, please use these for your classroom only. Other teachers may visit our site to download their own copy for their classroom use.
Do not claim rights to copyright of any part of the file or design.
Do not use files for any commercial purpose.
Thank you for respecting our energy and investment in making these free printables available to everyone!
Jeopardy Game Components
Our printable game includes the following elements:
1 round of questions and answers (game board includes 5 categories, with 5 questions per category)
Daily Double question and answer
Final round question and answer
Christmas Jeopardy for Kids Categories
In our free printable, you will find the following categories:
Christmas Symbols
Christmas Food
Christmas Movie Characters
Santa Claus
12 Days of Christmas
The Christmas Jeopardy powerpoint game includes a sixth category: Holiday Word Scramble.
Kids Christmas Jeopardy Question and Answers
Christmas Symbols
100: These are round balls you hang on a Christmas tree.
What are ornaments?
200: People decorate their house with these to make them bright at night.
What are Christmas lights?
300: You often put this on top of a wrapped Christmas gift.
What is a bow?
400: People hang this circular decoration on their door.
What is a wreath?
500: This item that brings good luck to families is also the name of famous ballet.
What is a nutcracker?
Christmas Food
100: You make houses out of this kind of cookie.
What is gingerbread?
200: Candy canes are usually red, white, and made of this flavor.
What is peppermint?
300: This is another name for hot chocolate.
What is hot cocoa?
400: According to a holiday song, this type of nut is roasted over an open fire.
What are chestnuts?
500: Christmas pudding came from this country.
Where is England?
Christmas Movie Characters
100: This is the name of the main character in Elf.
What is Buddy?
200: This is the name of Grinch's dog.
What is Max?
300: This is the name of the kid who is left by himself in Home Alone.
What is Kevin McAllister?
400: This is the name of Bob Crachit's son in A Christmas Carol
What is Tiny Tim?
500: This is the name of the rabbit in the magic hat in Frosty the Snowman.
What is Hocus Pocus?
Santa Claus
100: This is the color of Santa's boots.
What is black?
200: This is how Santa laughs.
What is "Ho ho ho"?
300: The number of times Santa Claus checks his naughty nice list.
What is twice?
400: Santa Claus drives this to deliver gifts to kids on Christmas Eve.
What is a sleigh?
500: The 3 reindeer whose name starts with D.
Who are Dasher, Dancer, Donner?
12 Days of Christmas
100: True Love gives 5 of this on the 5th day of Christmas.
What are golden rings?
200: This comes in a pear tree on the 1st day of Christmas.
What is a partridge?
300: True Love gives 10 of this on the 10th day of Christmas.
What are lords a leaping?
Daily Double: The number of turtle doves given total by the 12th day of Christmas.
What are 22 turtle doves? (2 x 11 days)
500: True Love gives 8 of this on the 8th day of Christmas.
What are maids a milking?
Free Easy Christmas Jeopardy for Kids Printable Game Board to Download
HOW TO DOWNLOAD FREE PRINTABLE(S):
Click the download link in the green shaded box below to access the desired printable(s). Link will open in Dropbox or Google Drive in a new tab.
On the Dropbox or Google Drive page, look for the download icon and button along the top of the screen to save a copy to your device. This works best on a laptop or desktop computer.
Some companies and schools block your computer or work/school-associated email from accessing Dropbox or Google Drive. If that is the case, please visit our website from a personal device and email.
If you try to request access through Dropbox or Google, work/school servers often block our email address from being allowed to grant you access.
Note: You do not need to create an account to grab the free printables. If you are prompted to create an account, simply click away from that window to head back to the screen that should allow you access to download.
More Christmas Resources You Will Like