Snag this free Christmas lights bingo printable at the end of this post!
A fun activity as you take a Christmas lights tour of the neighborhood this holiday season
Four different card variations for a game of friendly competition with family or friends
Looking for more freebies? Check out the rest of our Christmas games and activities or bingo activity cards!
HOW TO FIND DOWNLOAD LINK FOR FREE PRINTABLE(S):
Look for a colored box in this same light green shade towards the end of this post. There you will find the hyperlink to snag the freebie.
---
---
Disclosure: Opinions expressed are our own. If you buy something through any of our affiliate links on this page, we may earn a commission at no extra cost to you. Thanks for supporting our site!
Jump to:
Christmas Games Bundle on Sale Now!
Snag our mega pack of our most popular Christmas game printables bundle for half off!
You get: 100+ Christmas bingo cards, 150+ Christmas charades and pictionary cards, Christmas left right gift exchange games, Christmas trivia, Christmas jeopardy, and more fun games!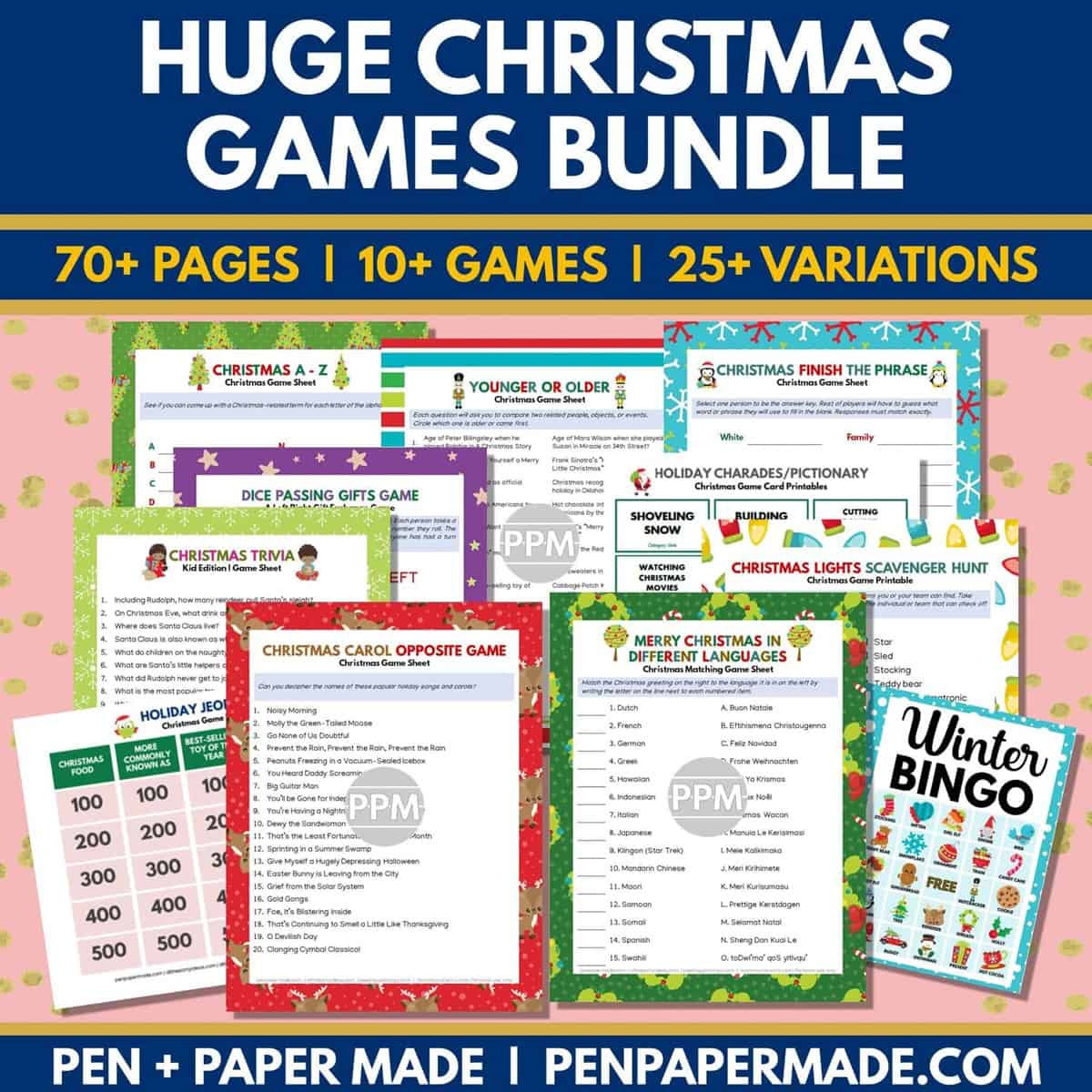 ---
Print
How to Play Christmas Lights Bingo
A fun Christmas lights scavenger hunt activity to do with family, friends, coworkers, students, or other group.
Materials
Writing Utensil (like pen or pencil)

Free Christmas Lights Bingo Printable

in 8 variations

Clipboard or other hard surface to write on
Instructions
Pass out Christmas lights bingo printable and writing utensils to participants. You may also include a clipboard, book, or other hard surface so folks can mark off their bingo cards.

Decide how Bingo will be determined. Blackout bingo marking off all squares on the card is the most fun. If you are short on time though, you may try 5 in a row (vertically, horizontally, or diagonally), 2 rows, or some other variation.

When the game starts, individuals look out for items to mark off on their card.

The first person to get Bingo should indicate so by shouting, "Bingo!". Or, change the winning phrase to shout to match this December occasion, such as "Merry and Bright!" or "Christmas Cheer!"
Notes
There are two sets of Christmas lights bingo scavenger hunt to choose from. The first set of 4 is all text. The second set includes images with the text, which is more suitable for young children who may not be able to read all the terms.
The goal is to find each of the items on the card as Christmas decorations. For example, "star" is not referring to stars in the sky ; )
You may choose to have the entire group head out for a Christmas lights tour in the local neighborhood in a car or by foot.
If playing in larger groups, you may also split into teams and head out with a camera to mark what items are found from the bingo card, like a Christmas lights scavenger hunt activity.
Christmas Lights Bingo Game
Content and/or features: This Christmas lights scavenger hunt bingo game contains a 5x5 grid with a free space in the center.
The printable that we created comes in 2 variations. Each set contains 4 different game cards so people will have their own list of items to look for.
One set is text only. The other contains picture images with word text for younger kids, such as toddlers or elementary school children, to be able to play.
There are 24 squares to potentially mark off on each card with text only. The items include:
Santa Claus: Boots, Hat, Sack, Belt, Santa on the Roof
Characters: Mrs. Claus, Gingerbread Man, Elf, Rudolph
Animals: Reindeer, Penguin, Polar Bear, Pony or Horse
Objects: Star, Angel, Candy Cane, Teddy Bear, Candle, North Pole Sign, Red Bow, Nutcracker, Stocking, Train, Bells, Gifts or Presents, Wreath, Sweater, Ornaments, Scarf, Drum
Nature: Christmas Tree, Holly, Pine Cone, Poinsettia
Winter or Outdoor: Sled or Sleigh, Snowman, Snowflake, Igloo
Lights: Colored, White, Blue, Icicle, Blinking
Related to Birth of Jesus: Nativity Scene, Stable,
Words: Joy, Noel, Happy Holidays, Season's Greetings
Branded: Grinch, Disney, Peanuts, Movie Character
Christmas Music, Inflatable Character
There are 24 squares to potentially mark off on each card with words and images. The items include:
Santa Claus: Sack, Boots, Santa on the Roof
Characters: Mrs. Claus, Elf, Gingerbread Man
Animals: Dog, Penguin, Polar Bear, Reindeer, Bird, Dinosaur
Nature: Poinsettia, Christmas Tree, Pine Cone
Winter: Mitten, Scarf, Snowman, Snowflake
Bells, Nutcracker, Bow, Candle, Drum, Snow Globe, Train, Candy Cane, Pony or Horse, Wreath, Sweater, Gingerbread House, North Pole Sign, Stocking, Gift or Present, Star, Sled or Sleigh, Car, Angel, Ornament, Drum, Teddy Bear, Bow
Lights: Colored, White, Blue, Red
Joy, Happy Holidays, Season's Greetings, Peace on Earth, Christmas Music
Color: This printable is mainly black and white with a string of Christmas lights graphic in color. It is printer-friendly in grayscale.
Format and/or number of pages: This is a single-page 8.5 x 11 inch non-editable PDF.
Rules of Use
All free files for kids or for adults on KeepingUpChangs.com are for personal and single classroom use only.
We put a lot of love and labor into creating these resources and offering it for free on the internet. To help offset the costs associated with running this website, please:
Do not share or redistribute files directly. In order to share, use the URL to this website and or webpage, NOT to the file itself.
Do not resell, copy, sub-license file in its original or modified format in any physical or digital form.
Do not upload or use this design on any file sharing (eg. Dropbox, GoogleDrive) or print-on-demand (POD) site (eg. Printful, Zazzle).
If you are a teacher, please use these for your classroom only. Other teachers may visit our site to download their own copy for their classroom use.
Do not claim rights to copyright of any part of the file or design.
Do not use files for any commercial purpose.
Thank you for respecting our energy and investment in making these free printables available to everyone!
Free Printable PDF to Download
HOW TO DOWNLOAD FREE PRINTABLE(S):
Click the download link in the green shaded box below to access the desired printable(s). Link will open in Dropbox or Google Drive in a new tab.
On the Dropbox or Google Drive page, look for the download icon and button along the top of the screen to save a copy to your device. This works best on a laptop or desktop computer.
Some companies and schools block your computer or work/school-associated email from accessing Dropbox or Google Drive. If that is the case, please visit our website from a personal device and email.
If you try to request access through Dropbox or Google, work/school servers often block our email address from being allowed to grant you access.
Note: You do not need to create an account to grab the free printables. If you are prompted to create an account, simply click away from that window to head back to the screen that should allow you access to download.
More Christmas Resources You Will Like