Snag this free Christmas multiple choice trivia game! We hope you enjoy our Christmas trivia multiple choice printable in PDF!
HOW TO FIND DOWNLOAD LINK FOR FREE PRINTABLE(S):
Look for a colored box in this same light green shade towards the end of this post. There you will find the hyperlink to snag the freebie.
---
---
Disclosure: Opinions expressed are our own. If you buy something through any of our affiliate links on this page, we may earn a commission at no extra cost to you. Thanks for supporting our site!
Jump to:
Christmas Games Bundle on Sale Now!
Snag our mega pack of our most popular Christmas game printables bundle for half off!
You get: 100+ Christmas bingo cards, 150+ Christmas charades and pictionary cards, Christmas left right gift exchange games, Christmas trivia, Christmas jeopardy, and more fun games!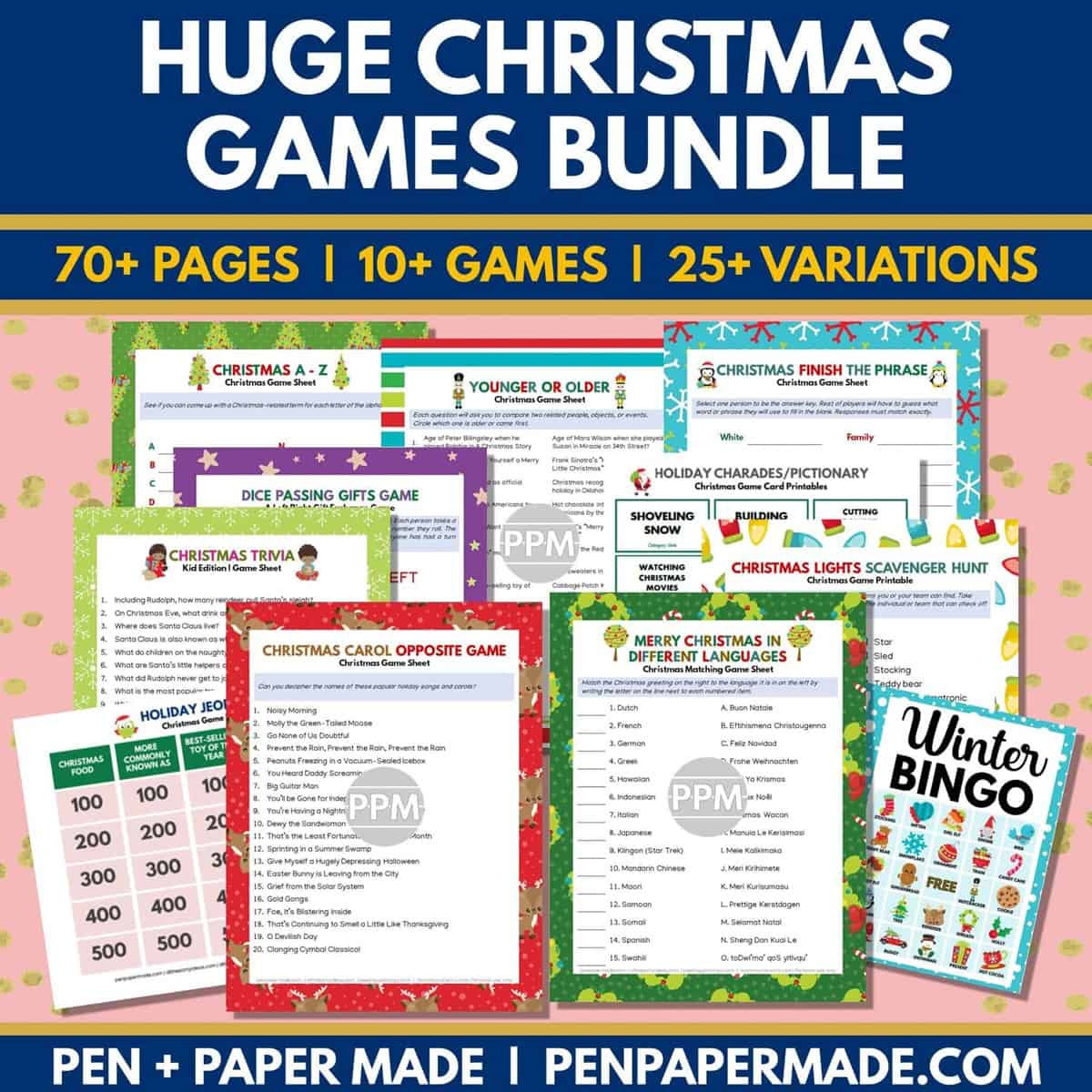 ---
Rules of Use
All free files for kids or for adults on KeepingUpChangs.com are for personal and single classroom use only.
We put a lot of love and labor into creating these resources and offering it for free on the internet. To help offset the costs associated with running this website, please:
Do not share or redistribute files directly. In order to share, use the URL to this website and or webpage, NOT to the file itself.
Do not resell, copy, sub-license file in its original or modified format in any physical or digital form.
Do not upload or use this design on any file sharing (eg. Dropbox, GoogleDrive) or print-on-demand (POD) site (eg. Printful, Zazzle).
If you are a teacher, please use these for your classroom only. Other teachers may visit our site to download their own copy for their classroom use.
Do not claim rights to copyright of any part of the file or design.
Do not use files for any commercial purpose.
Thank you for respecting our energy and investment in making these free printables available to everyone!
Christmas Trivia Multiple Choice Question and Answers
Q: How many gifts total did true love give in "The 12 Days of Christmas"?
A. 60
B. 78
C. 364
D. 365
Answer: C. 364
For those who are interested in a more detailed answer:
Partridges: 1 x 12 days = 12
Doves: 2 x 11 days = 22
Hens: 3 x 10 days = 30
Calling birds: 4 x 9 days = 36
Golden rings: 5 x 8 days = 40
Geese: 6 x 7 days = 42
Swans: 7 x 6 days = 42
Maids: 8 x 5 days = 40
Ladies: 9 x 4 days = 36
Lords: 10 x 3 days = 30
Pipers: 11 x 2 days = 22
Drummers: 12 x 1 day = 12
Q: Johnny Marks, who specialized in Christmas songs, wrote all but which of the following?
A. Holly Jolly Christmas
B. Rockin' Around the Christmas Tree
C. Rudolph the Red Nosed Reindeer
D. Santa Claus is Coming to Town
Answer: D. Santa Claus is Coming to Town
"Santa Claus is Coming to Town" was written by Hans Gillespie.
Q: What was the first artificial Christmas tree made of?
A. Christmas lights
B. Goose feathers
C. Plastic
D. Sparkling cider
Answer: B. Goose feathers
The first artificial tree was made in Germany in 19th century from goose feathers dyed green.
Q: In Ukraine, Germany, Poland, what is considered good luck to put on a Christmas tree?
A. Spiders
B. Apples
C. Stars
D. Holly berries
Answer: Spiders.
This originates from the story of a poor family that had nothing to decorate their tree, which made kids very sad. Spiders heard their sobs, came out on Christmas Eve after they went to sleep and created elegant silk web patterns. The family woke up to a beautiful tree the next morning, which delighted them and has been considered good fortune since.
Q: Who is credited with putting the first lights on a Christmas tree?
A. Julius Caesar
B. Baby Jesus
C. Martin Luther
D. John Rockefeller
Answer: Martin Luther.
Inspired by the starry night sky, Martin Luther decorated the first tree with candles in 1660.
Q: Which was not one of the names being considered for Rudolph the Red-nosed Reindeer?
A. Raynor
B. Reginald
C. Rollo
D. Romeo
Answer: Raynor.
Q: How fast can real reindeer (caribou) run?
A. 20 MPH
B. 30 MPH
C. 40 MPH
D. 50 MPH
Answer: 50 miles per hour.
Q: What color is not in the title of a classic Christmas song?
A. Green
B. Red
C. White
D. Silver
Answer: Green.
Rudolph the Red-Nosed Reindeer, Silver Bells, White Christmas.
Q: Which US President banned Christmas trees in the White House?
A. Ben Harrison
B. John Kennedy
C. Ronald Reagan
D. Teddy Roosevelt
Answer: Teddy Roosevelt.
Q: Which is not the name of a real town in the United States?
A. Prancer Lake, CA
B. Christmas, FL
C. North Pole, NY
D. Bethlehem, PA
Answer: Prancer Lake, CA.
The real city name is Donner Lake, CA.
Q: When did Hallmark first start making Christmas cards?
A. 1892
B. 1915
C. 1927
D. 1949
Answer: 1915.
Q: How big was the largest fruitcake recorded in the Guinness Book of World Records?
A. 5,000 lbs
B. 7,500 lbs
C. 9,500 lbs
D. 11,000 lbs
Answer: 9,500 lbs.
The largest fruit cake weighs 4,353 kg (9,596 lb 11 oz) and was achieved by Dr. Fabrizio Sepe (Italy) in Hodenhagen, Germany on 24 May 2014. It took a total of 250 hours for 20 people to bake 440 trays of the cake to assemble the masterpiece, which measured 12 meters long and 8 meters wide. The cake was made to celebrate the 40th anniversary of the zoo.
Q: What is the busiest grocery store day of the year?
A. December 22
B. December 23
C. December 24
D. December 25
Answer: December 23.
Q: Which is not one of the top 3 countries to send the most letters to Santa each year?
A. Canada
B. England
C. France
D. United States
Answer: England.
Q: How many people are sent to ER each year due to holiday decorating accidents?
A. 5,000
B. 10,000
C. 15,000
D. 20,000
Answer: 15,000.
Over 14,500 people are reported to go to the ER due to falls, scalds, sparks and more in November and December. Please remember to stay safe!
Free Multiple Choice Christmas Trivia Game Printable to Download
HOW TO DOWNLOAD FREE PRINTABLE(S):
Click the download link in the green shaded box below to access the desired printable(s). Link will open in Dropbox or Google Drive in a new tab.
On the Dropbox or Google Drive page, look for the download icon and button along the top of the screen to save a copy to your device. This works best on a laptop or desktop computer.
Some companies and schools block your computer or work/school-associated email from accessing Dropbox or Google Drive. If that is the case, please visit our website from a personal device and email.
If you try to request access through Dropbox or Google, work/school servers often block our email address from being allowed to grant you access.
Note: You do not need to create an account to grab the free printables. If you are prompted to create an account, simply click away from that window to head back to the screen that should allow you access to download.
More Christmas Resources You Will Like