Snag this free Christmas trivia game for kids! Scroll to the colored box near the bottom to download the Christmas trivia for kids printable in PDF. Enjoy!
---
---
Disclosure: Opinions expressed are our own. If you buy something through any of our affiliate links on this page, we may earn a commission at no extra cost to you. Thanks for supporting our site!
Jump to:
Christmas Games Bundle on Sale Now!
Snag our mega pack of our most popular Christmas game printables bundle for half off!
You get: 100+ Christmas bingo cards, 150+ Christmas charades and pictionary cards, Christmas left right gift exchange games, Christmas trivia, Christmas jeopardy, and more fun games!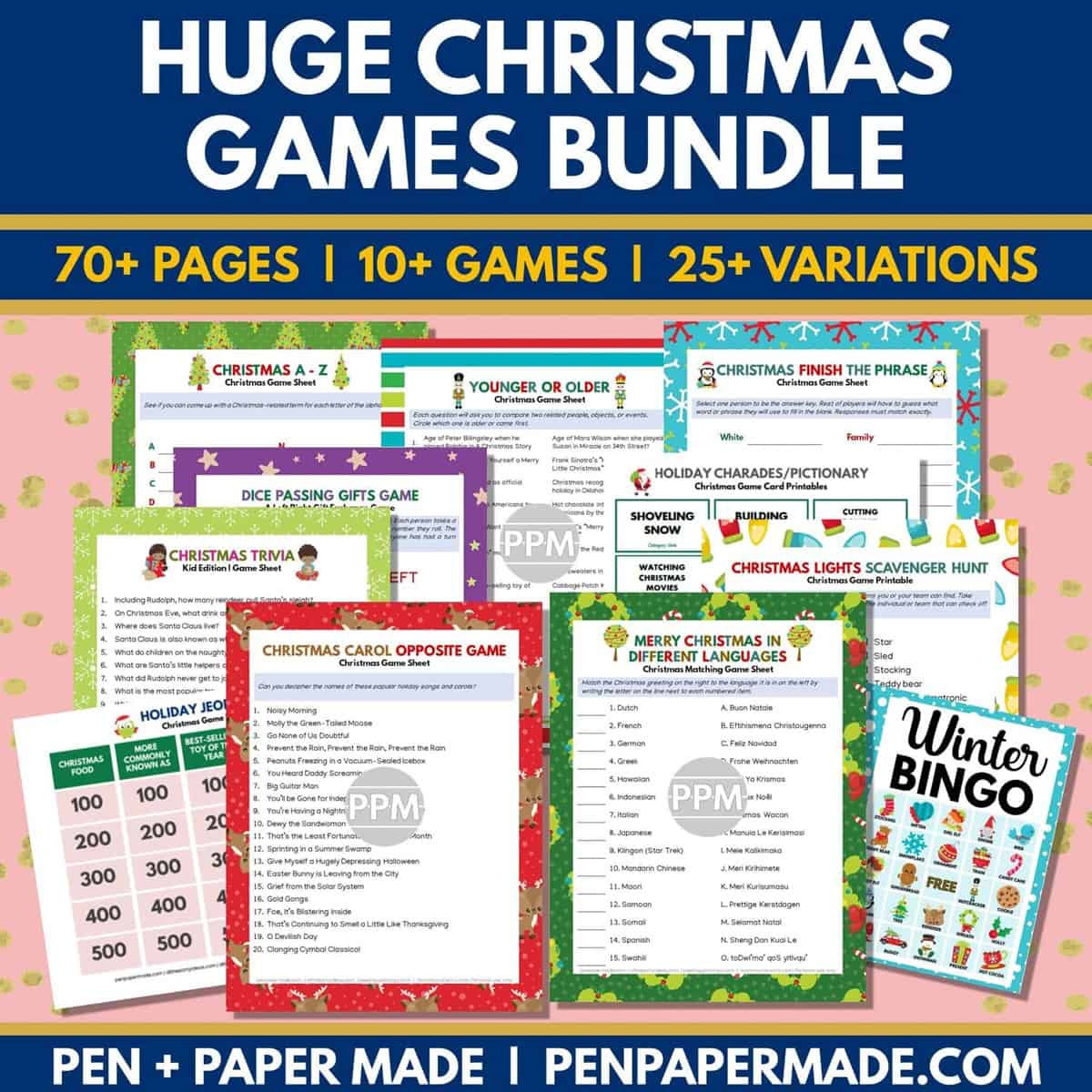 ---
Rules of Use
All free files for kids or for adults on KeepingUpChangs.com are for personal and single classroom use only.
We put a lot of love and labor into creating these resources and offering it for free on the internet. To help offset the costs associated with running this website, please:
Do not share or redistribute files directly. In order to share, use the URL to this website and or webpage, NOT to the file itself.
Do not resell, copy, sub-license file in its original or modified format in any physical or digital form.
Do not upload or use this design on any file sharing (eg. Dropbox, GoogleDrive) or print-on-demand (POD) site (eg. Printful, Zazzle).
If you are a teacher, please use these for your classroom only. Other teachers may visit our site to download their own copy for their classroom use.
Do not claim rights to copyright of any part of the file or design.
Do not use files for any commercial purpose.
Thank you for respecting our energy and investment in making these free printables available to everyone!
Christmas Kids Trivia Question and Answers
Q: Including Rudolph, how many reindeer pull Santa's sleigh?
A: Nine
Q: On Christmas Eve, what drink and snack are placed out for Santa?
A Milk and cookies
Q: Where does Santa Claus live?
A: North Pole
Q: Santa Claus is also known as which saint?
A: St Nick
Q: What do children on the naughty list get for Christmas?
A: Coal
Q: What are Santa's little helpers called?
A: Elves
Q: What did Rudolph never get to join in?
A: Reindeer games
Q: What is the most popular tree topper?
A: Angel
Q: Which movie character's catchphrase is "Bah Humbug"?
A: Ebenezer Scrooge
Q: What do you get 2 of from your true love on the 2nd day of Christmas in "12 Days of Christmas"?
A: Turtle doves
Q: In "Let it Snow," the weather outside is what?
A: Frightful
Q: How does Santa get into most houses to deliver presents?
A: Comes down the chimney
Q: What are the two most popular colors of Christmas?
A: Red and green
Q: What type of calendar do you use to count down to Christmas Day?
A: Advent calendar
Q: According to "Jingle Bells," what is it fun to ride in?
A: One horse open sleigh
Q: Where do people exchange kisses at Christmas time?
A: Below the mistletoe
Q: In the famous poem "'Twas the Night before Christmas," not a creature was stirring, not even a what?
A: Mouse
Q: Which reindeer's name starts with a P?
A: Prancer
Q: What color is the Grinch in How the Grinch Stole Christmas?
A: Green
Q: In the "naughty" version of "Jingle Bells," which superhero smells?
A: Batman
Free Christmas Trivia for Kids Game Printable
More Christmas Resources You Will Like