Snag this free letter from Santa for a newborn baby! We hope you enjoy our editable letter from Santa for a first Christmas printable in PDF!
HOW TO FIND DOWNLOAD LINK FOR FREE PRINTABLE(S):
Look for a colored box in this same light green shade towards the end of this post. There you will find the hyperlink to snag the freebie.
---
---
Disclosure: Opinions expressed are our own. If you buy something through any of our affiliate links on this page, we may earn a commission at no extra cost to you. Thanks for supporting our site!
Jump to:
Christmas Games Bundle on Sale Now!
Snag our mega pack of our most popular Christmas game printables bundle for half off!
You get: 100+ Christmas bingo cards, 150+ Christmas charades and pictionary cards, Christmas left right gift exchange games, Christmas trivia, Christmas jeopardy, and more fun games!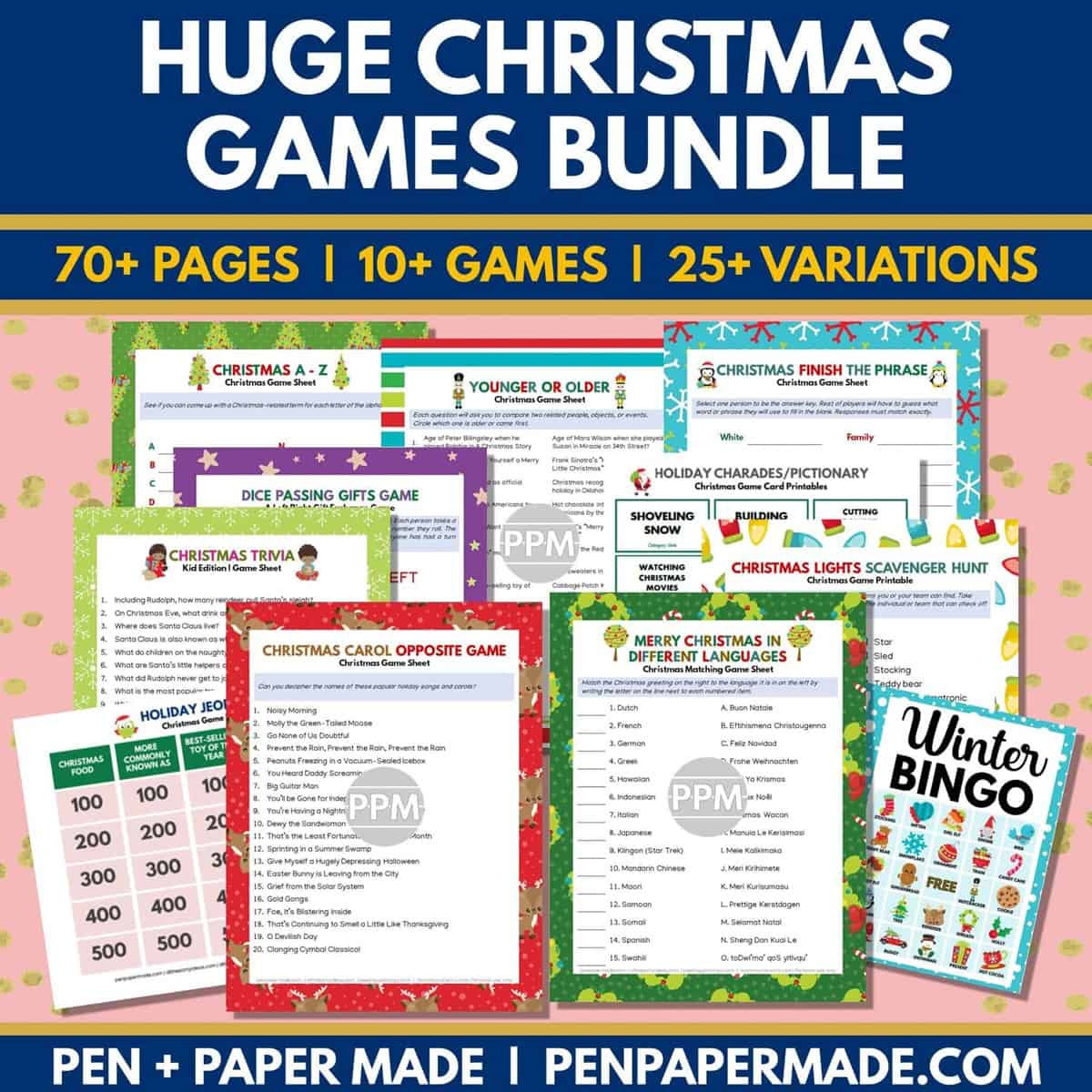 ---
Rules of Use
All free files for kids or for adults on KeepingUpChangs.com are for personal and single classroom use only.
We put a lot of love and labor into creating these resources and offering it for free on the internet. To help offset the costs associated with running this website, please:
Do not share or redistribute files directly. In order to share, use the URL to this website and or webpage, NOT to the file itself.
Do not resell, copy, sub-license file in its original or modified format in any physical or digital form.
Do not upload or use this design on any file sharing (eg. Dropbox, GoogleDrive) or print-on-demand (POD) site (eg. Printful, Zazzle).
If you are a teacher, please use these for your classroom only. Other teachers may visit our site to download their own copy for their classroom use.
Do not claim rights to copyright of any part of the file or design.
Do not use files for any commercial purpose.
Thank you for respecting our energy and investment in making these free printables available to everyone!
Design Details of the Santa Letterhead
Decoration: A fun blue and white snowy background at top with Santa in his sleigh and Rudolph standing at ready.
Letterhead text: The top reads, "Ho ho ho, Merry Christmas" in a quirky font.
Format and/or number of pages: This is a single-page form-fillable PDF on a white background.
Editable Writing Sample
Below is the text that this letter reads, with minimum suggested sections for personalization contained in brackets.
Feel free to change as much as desired, or to use content from other sample letters from Santa with this particular letterhead.
Dearest Baby [insert newborn's name],
Oh what a beautiful bundle of joy you are!
I love seeing all the children around this time of year, but I'm especially happy to welcome the littlest ones who will get to experience the magic of Christmas for the very first time!
Mrs. Claus just added your name to the special list of children whom I deliver presents to on Christmas Eve.
You see, I have a workshop up at the North Pole, where toys for all the good little boys and girls are made. Luckily, there are lots of helpful elves who make the work fun!
I also have my trusty crew of reindeer who will pull my sleigh when it's time to travel to all the children's houses. There's Rudolph, Dasher, Dancer, Prancer, Vixen, Comet, Cupid, Donner, and Blitzen. You might catch Rudolph's bright red nose guiding me through the starry night!
It's almost time to get ready to visit you! I can't wait to share the magic of the holidays when I stop by. Until then, may your first Christmas be filled with the best kind of magic - the love of all those around you.
At the bottom right is Yours truly, and Santa Claus' signature.
Free Printable PDF to Download
HOW TO DOWNLOAD FREE PRINTABLE(S):
Click the download link in the green shaded box below to access the desired printable(s). Link will open in Dropbox or Google Drive in a new tab.
On the Dropbox or Google Drive page, look for the download icon and button along the top of the screen to save a copy to your device. This works best on a laptop or desktop computer.
Some companies and schools block your computer or work/school-associated email from accessing Dropbox or Google Drive. If that is the case, please visit our website from a personal device and email.
If you try to request access through Dropbox or Google, work/school servers often block our email address from being allowed to grant you access.
Note: You do not need to create an account to grab the free printables. If you are prompted to create an account, simply click away from that window to head back to the screen that should allow you access to download.
More Christmas Resources You Will Like